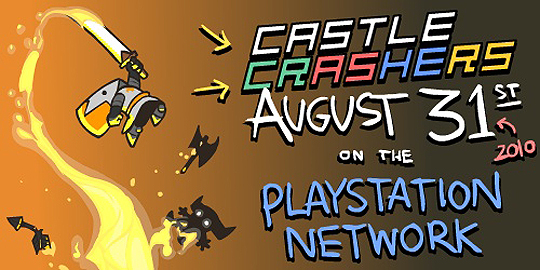 Dan Paladin, Art Director and co-founder of Behemoth studios, announced on the Playstatin blog last week that Castle Crashers is finally making it's way to the Playstaion 3. It's coming pretty quickly too. It will be releasing on August 31st here in North America.
Behemoth has never been known to be timely with their releases, but they have been known for their quality. Castle Crashers has been a consistent best seller on the Xbox 360, and was the best selling Arcade game of 2008. It's likey to pull the same sort of accolades on the Playstation 3.
No new features have been announced for the Playstation 3 version of the game, but Paladin did say in the blog post that Behemoth has been working on the PSN version of the game for about a year and a half. There is a good chance that there could be something new in there.
If you're going to PAX this September, make sure to stop by the Behemoth booth where they will have an arcade cabinet set up to play Castle Crashers, and to check out their upcoming BattleBlock.