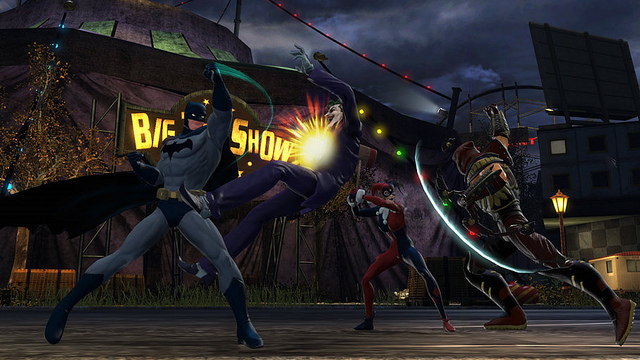 The PlayStation Blog was just updated with news about their season of giving, and the gifts this year are a-plenty. Ol' Saint Sony will be bringing a sack full of discounts to PlayStation Plus members, as well as some exclusive trial games and demos, including a beta for DC Universe Online.
In case you weren't convinced to jump in with your own superhero yet, maybe this will do the trick. That's assuming, of course, that you're a PlayStation Plus member. Though no date has been announced, sometime this holiday season members will be granted free access to a downloadable beta for DC Universe Online. And Borderlands looks to be getting in on the action too with a full game trial, also for free.
PlayStation Plus will also net you a new shooter called, well, A Space Shooter for 2 Bucks. And there's plenty more discounts on other downloadables all kicking off on the 21st. Check out the full list from the PlayStation Blog below. Merry gaming.
PlayStation Plus Highlights for 12/21:
Full Game Trial
Borderlands (Free and exclusive to PlayStation Plus Subscribers)
Featured Games
A Space Shooter For 2 Bucks – Minis (Free for PlayStation Plus Subscribers, regular price $1.99)
Discounted Games
Alpha Mission (20% off) (PlayStation Plus price $7.19, regular price $8.99)
Art of Fighting (20% off) (PlayStation Plus price $7.19, regular price $8.99)
Baseball Stars Professional (20% off) (PlayStation Plus price $7.19, regular price $8.99)
Fatal Fury (20% off) (PlayStation Plus price $7.19, regular price $8.99)
League Bowling (20% off) (PlayStation Plus price $7.19, regular price $8.99)
Magician Lord (20% off) (PlayStation Plus price $7.19, regular price $8.99)
Metal Slug (20% off) (PlayStation Plus price $7.19, regular price $8.99)
Samurai Showdown (20% off) (PlayStation Plus price $7.19, regular price $8.99)
Super Sidekicks (20% off) (PlayStation Plus price $7.19, regular price $8.99)
The King of Fighters '94 (20% off) (PlayStation Plus price $7.19, regular price $8.99)
Battlefield 1943 (40% off) (PlayStation Plus price $8.99, regular price $14.99)