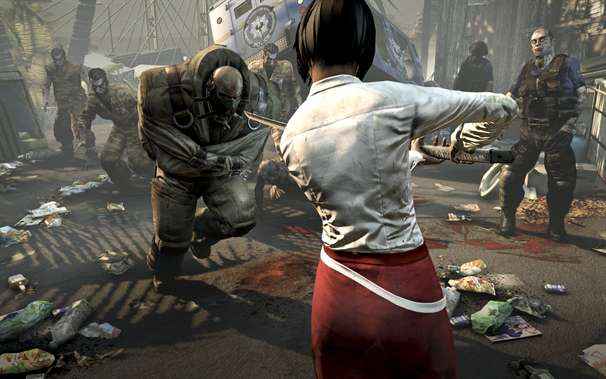 The reveal trailer for Deep Silver Interactive's upcoming open-world zombie survival game, Dead Island, dropped the collective jaw of the gaming industry with its unique approach to storytelling and conveying emotion. Since then, gamers have clamored for a look into the game behind the trailer, wondering if this would just be another iteration of the recent zombie game onslaught.
GameTrailers caught up with Deep Silver and Dead Island Brand Manager Vincent Kummer to get eleven full minutes of in-game footage, revealing more than just a few severed limbs.
The island is a character in itself, dynamic and beautiful. An oncoming storm changes weather from idyllic to hurricane condition, altering the tone and progressing the story. Almost like open-world RPGs, Dead Island is dotted with survivor camps that serve as hubs for supplies, quests, and the eclectic, non-zombie characters that the female protagonist must interact with to save herself and the island.
Zombies come in all temperaments and sizes in Dead Island, but the primary method for dispatching them is clear – melee, melee, melee. There's a myriad of deadly, improptu weapons for cutting apart these monstrosities from machetes to oars to nail-studded baseball bats, and the occasional plastic explosive or assault rifle mixes up combat for a bit. Kummer makes it clear, though, that the focus of Dead Island is the up-close, blood-spurting hacking that can only be achieved with close-ranged combat.
Check out the trailer for the full, extended look at how Dead Island will carve its own niche in the crowded zombie game market, and be sure to check back with GamerNode for our E3 coverage of four-player cooperative play in this latest title from Deep Silver.
[flash width="540" height="337"]http:/www.youtube.com/v/UDzFzNg0bxk?fs=1&hl=en_US&rel=0[/flash]