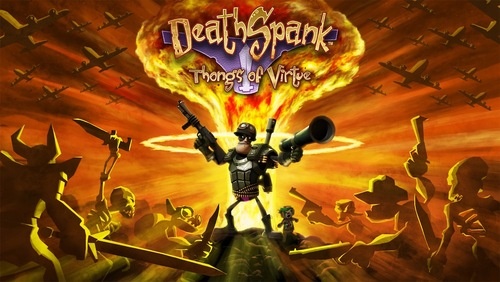 According to a recent interview with DeathSpank producer Hamish Millar, a sequel to the downloadable game is not in the works. That's because it's already done. DeathSpank: Thongs of Virtue (yes, that is really the title) finds the confident hero from the first game returning in a new adventure involving…virtuous thongs? The official press release states: "A long time ago, nine mystical thongs were planned to bring balance and harmony to the universe, but when marketing got in the way, only six thongs were produced, and the result was disastrous. Granting great power to those who wear them, the thongs corrupted all those they touched-except DeathSpank. DeathSpank must find all six thongs and destroy them once and for all."
Thongs of Virtue was actually in development while the team at Hothead Games was also working on the original. So any worried Ron Gilbert fans out there can rest easy. "Ron is as involved in this [new DeathSpank] as he was in the first one," explains Millar. On the other hand, the identical development cycles eliminate any chance of considering fan feedback from the first DeathSpank. Despite this, Hothead Games promises a game that is 50% longer with more "adventure and puzzle questing," as well as a new playable character for local co-op. Any trigger happy people out there should be pleased to hear that guns will also be introduced to the game.
The fundamental gameplay and comedic approach will remain largely unchanged, so fans of the original should get ready for another humorous hack and slash adventure. DeathSpank: Thongs of Virtue is set to release on September 21st and 22nd for PSN and XBLA respectively at the same price point as the original ($15/1,200 MS points).
[Kotaku]