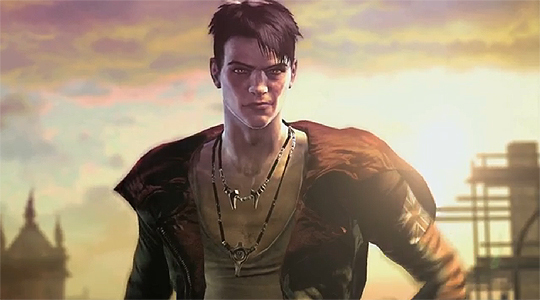 Ninja Theory, the team behind Heavenly Sword and upcoming Enslaved: Odyssey to the West, have announce their much rumored addition to the Devil May Cry franchise. There is nothing I can tell you here, that you won't learn by taking a gander at the trailer.
The Dante featured in the trailer, who we can possibly assume is THE Dante, looks pretty young. Like he just stepped out out High School Freshman English to smoke a cigarette young. The stress of demon hunting is already getting to him as a large tuft of white hair is apparent on the back of his head. The kid calls himself Dante, (sorry to ruin the end of the trailer) but we can't rule out the possibility that this is not the THE Dante that we have come to know and love. Devil May Cry 3 featured a young Dante, and this guy looks a lot different. He looks a lot younger here though, too. There is no reason to rule out a partner, or impersonator, or perhaps even a son. Capcom has played with our character perceptions before. We all thought Nero from Devil May Cry 4 was Dante for quite some time, before Capcom told us otherwise
Devil May Cry was in need of a fresh take, and I'm glad to see the franchise out of the development hands of Capcom, so to speak. Ninja Theory seems like the perfect fit.
Unfortunately, no release date or console deatails were revealed in the trailer.