It's been almost eight years since Dante has filled the protagonist role of a Devil May Cry game. Granted, he appeared as a supporting, and playable, character in Devil May Cry 4 (as well as a featured character in every other game Capcom was involved with), but DMC: Devil May Cry will be Dante's official return…or, I guess, re-introduction.
Replete with a slimmer build and black, short hair, Dante 2.0 caused quite a stir among die-hard franchise fans. "Where's the white hairs!?" and other such things have been lamented regarding our hero's redesign. Regardless, playing through the demo, this new kid is nothing but Dante, white hair or no.
Designed by Ninja Theory, the development studio behind Heavenly Sword and Enslaved: Odyssey to the West, DmC takes place in an alternative universe. When it starts, Dante wake up in Limbo City, where he meets Kat. Kat is part of a demon-hunting group called The Order that has since been labeled a terrorist organization. Kat introduces Dante to his twin brother and leader of the Order, Vergil, who is no longer the antagonistic  human-hating curmudgeon we saw in DMC 3. He's welcoming, extroverted and British. He tells Dante that the two of them are Nephilim, a mix of half-angel, half-demon creatures with the ability to stop Mundus, the Demon King.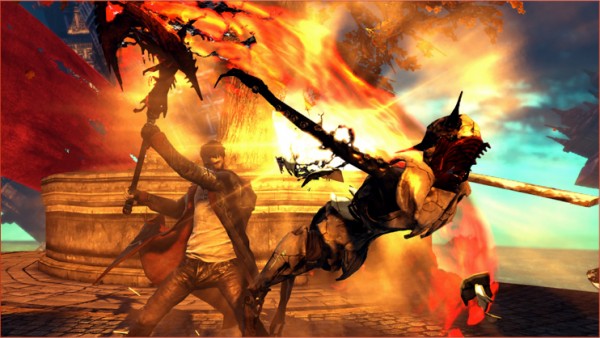 Fast forward, Dante and Kat walk through the streets of Limbo City when a heavy man passes by with an energy drink. (An advertisement of a muscular male chugging the very same beverage is displayed behind them.) Dante slaps the drink out of the man's hand. "It'll kill ya," he says. As he does this, a security camera notices and sets off an alarm. Limbo City stirs awake, vibrant oranges and blues pop out of the architecture. Demons are coming. Time to fight.
The gameplay mechanics have been streamlined. Regular attacks with Dante's sword are mapped as usual, but the animations are rougher and more garish.  Ebony and Ivory, Dante's loyal handguns, make their return as well. Populating the shoulder buttons of the controller are Dante's angel and demon weapons, a scythe named Osiris and a hammer named Arbiter, respectively. Holding down a trigger transforms Dante's sword, Rebellion, into one of the weapons. Osiris lays out quick, flashy combos, twirling and juggling enemies. Arbiter is a mammoth, trouncing and slamming through sluggish swings.
The two special weapons also replace the handguns with more direct attacks. Osiris pulls Dante toward enemies, allowing for snappy, tactical movement around the battle. Arbiter pulls enemies toward Dante, giving a great defense through a disarming offense. Shields are yanked to the side, leaving more brutish enemies exposed for the slicing.
The heart of the game is combat, and it feels polished. The accessibly of weapon cycling is something Devil May Cry has yet to master. Ninja Theory seems to be on the right track by keeping things clean and simple. Hold this down, do this. Hold that down, do that. Time will tell how the system holds up as more weapons are integrated.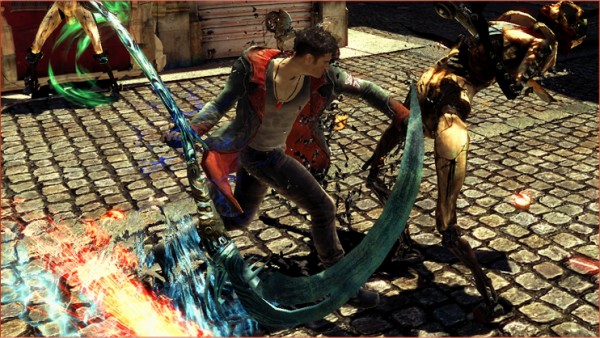 There is also a second, boss battle segment that pits Dante against a large, larva-like demon. The fight itself illustrates the dynamic nature of Devil May Cry's infamous boss segments. Dante enters a tomb where the larva demon is restrained and supported by cables. As the fight ensues, Dante uses the Osiris ability to swing from platform to platform, avoiding the demon's acidic spit. It's an introductory battle spiced with some crass — but humorous– opening dialogue.
What's more is the social commentary the game hints at in the demo. The opening scene involves a member of The Order, cloaked in knock-off Guy Fawkes mask (Ninja Theory is British after all), delivering a speech via viral video. Also, the idea that demons identify Dante through video cameras that then have to be destroyed is telling. What will this amount to? Will Vergil raise his katana against his brooding brother once again? What will The Order's role be in the larger story? What does Dante have against energy drinks?
Emo hair, white hair, red coat, black coat, either way, DmC is back. Look for it on sale starting January 15, 2013.