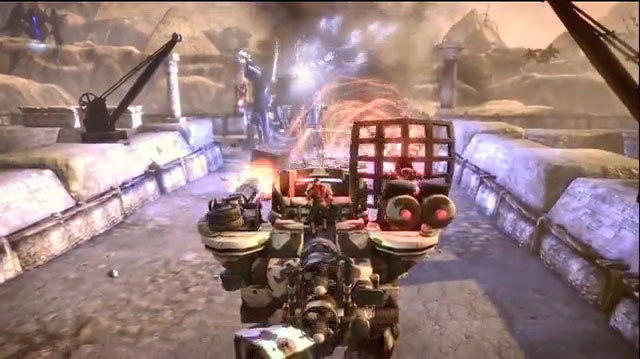 Double Fine Productions is continuing its trend of releasing games on a smaller scale. At GDC 2011 the developer revealed their next project, the Xbox LIVE Arcade title Trenched.
The game focuses on large robotic mechs with plenty of fire power in a fight against evil aliens. The first trailer has a distinctly old school government vs. aliens vibe, and it goes on to hint at possible customization options for your mechs.
Gameplay footage shows off some third-person shooting, but there is also a mention of stationary defenses. That means some kind of action/strategy hybrid does not seem out of the question. Other than the trailer, no further details have been revealed at this point.
Ever since Brutal Legend's disappointing sales, Double Fine has been focusing more on small downloadable titles. So far it has payed off, with well received games such as Costume Quest and Stacking finding success. Trenched is looking to be yet another solid downloadable game.
Below you can view the GDC 2011 announcement trailer for Trenched.
[flash width="540" height="334"]http:/www.youtube.com/v/N2AK-e2jdkM?fs=1&hl=en_US&rel=0[/flash]