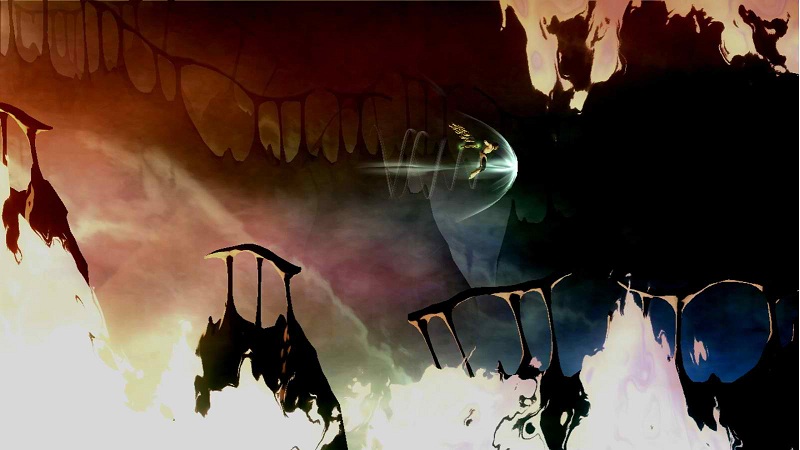 No game review before has prompted the use of the word "deuterocanonical" and, optimistically, never will again.
The source material for El Shaddai is the deuterocanonical (non-Protestant Christian Old Testament, outside the Hebrew Bible) Book of Enoch, a religious text as obtuse as the game's driving artistic shades. Player's become the Metatron, a suspiciously under-documented mediary angel intervening for God with man. The Earth is consumed in lustful transgression; the heavens are polluted by angel-muggles; a loose satanic allusion narrates and chats with God about flooding creation; Enoch fights shadow critters. Pre-Noah, post-Eden multi-perspective allegory for man's struggle with sin and God's struggle with man — subject matter that's overly dramatic, like dinner theater, swimming between the broad, abstract strokes of a biblical re-imagining and surrealist water color.
El Shaddai, then, is mercifully simple. It's a platformer turned skill-based beat 'em up turned back. The play mechanics challenge (and at times imprecisely frustrate) but don't burden. For a revelation in gaming presentation as densely laden as Enoch's soul-searching holy war, a sophisticated upgrade system or delicate skill tree would overwhelm the admittedly insistent focus on the medium's voice. Instead of poring through statistics, the player can only be overcome by landscape Japanese oil paintings, block-color anime references, and the gaudy playfulness of a game designer unafraid to drill gaping holes in the fourth wall.
This reliance on thoughtful art and game architecture is El Shaddai's gospel, and it will (probably) fall on deaf ears.
The 3D melee action may provide the loaves and fish that the hungry Devil May Cry gamer craves (see: harder difficulties unlocked after first play-through), and the 2D and 3D platforming rotation may resurrect Mario's more traditional (see: NES through N64) challenges, but they're humble hands in service to the psychedelic euphoria of El Shaddai's neon walkway cities and angular briar towers. Enoch wields three weapons (arch, gale, and veil), all swiftly and advisably changeable. If there's one rule to the one-button combat, it is: Thou shalt steal. Stealing and purifying weapons primes the combat gears, even in — especially in — boss encounters. Again, masked pigs and glowering human mantises play first lute to any action on the player's part.
The practical, interactive level design is a kind of purgatory: enjoyable yet repetitive. Fight darkness creatures, jump or run a bit, slash some ambient objects for armor, fight darkness creatures. The intrigue lies in inventive bosses with unexpected turns. In between, the battles are unfortunately similar and progressively harder. One clash will be monochrome, left to right, with story events unfolding in the background, the voices of archangel birds cooing and prodding Enoch along. Then the devil's double will record some data, hand out a crumb of unreliable narrative, and the repetition resumes.
It's not compelling or new, but El Shaddai's core mechanics (presumably the heart of, well, a game) hold the package together while the artist pours more paint onto his busy canvas, and the scribe pens his Judeo-Christian revised verse. The Watcher's Tower is a unique spectacle for any media, made stronger by the player's intrinsic connection to Enoch and his archaic, even primal conflict. A game this rich in inspiration and bizarre in interpretation should be beheld; to be played, it seems, was not El Shaddai's priority.