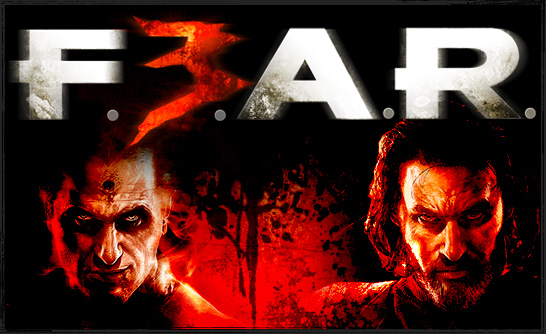 Conflict stems from two opposing forces. A yin and yang. A good and an evil. In F.E.A.R. 3, or F3AR, no such opposite forces exist. As the brooding Point Man, players are given control of a mute killer that, by all definitions, is a bad guy. He kills soldiers, looks out for himself and is poisoned with inner demons that rip him apart. That's our protagonist. Then there's his hideous brother Fettel, who brims with a vile presence and sports a nasty bullet hole between the eyes, placed there by (of course) his silent twin brother.
One of the main characters is diseased with malignant physiological problems and the other is dead. Their mission is to find (and possibly kill) their polymorphic demon mother named Alma. Her role doesn't evolve past taking the form of a little girl and scaring the bejesus out of her sons — a la every Japanese horror film from the mid-2000s. It's a witch's brew of game formulas and as baffling as it is dark. Oedipus ain't got nothing on these guys.
From the start, F.E.A.R. 3 propagates a duality that leaks into the nooks of the game. Every other level shifts tonally from blazing guns and cover systems to impressionist lighting and empty corridors. Much like the relationship between the brothers, F.E.A.R. 3 structures itself around two different mantras. One is straightforward, aggressive, narrow — the Point Man side of the game. The other, Fettel's side, is languishing, unpredictable, and (of all things) fearful.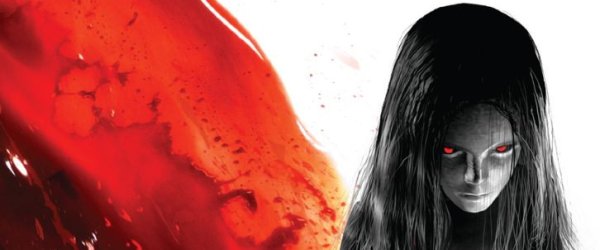 It's an unsettling balance. Just when the steely grey exterior of mechanized battle armor gets tiresome, and just when the modestly sized arsenal becomes a bit banal, the game literally paints itself red and slaps a grainy filter across the players' screen. Empty, rusty strollers wobble by. Grotesque black drawings stain the walls. A bloodied little girl flickers into existence before erupting into a pile of ash.
Unfortunately, as the game pulses along, this duality loses its focus. By the halfway mark, F.E.A.R. 3 favors the Point Man style of play over the much more interesting Fettel style. The sets repeat and the enemies fail to intimidate. In the end, even the few cracks of chaotic moments fall short by the time the two brothers finally meet their mother.
In the co-op mode, both brothers take on the darkness and the game offers two different modes of play — Point Man's traditional FPS down-the-barrel-of-a-gun shootfest and Fettel's supernatural ability to possess enemy soldiers. Sure, Fettel is a clone of Point Man after possessing enemies, but when the genre is impregnated with muddied color schemes and camping, this change of pace is relieving.
Of course, deviating from the road always traveled can only take you so far before you're met a few potholes. F.E.A.R. 3 meets a good amount when it ventures online. While the two flavors of play mix well in the single player and co-op modes, F.E.A.R. 3 online tastes a little bitter.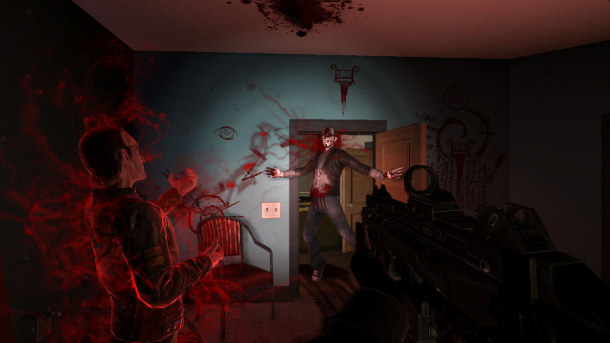 In "Contractions", the game takes a page out of Call of Duty's instruction manual with its own take on the Nazi Zombie mode. Alma sometimes shows up to prance around the battlefield, gleefully playing hopscotch, but don't dare look at her. If you do, she'll spring forward and grab you, resulting in momentary disorientation. In other words, the goal is to ignore Alma completely. That means also ignoring F.E.A.R. 3's only differentiating characteristic and submitting to the same torpid online experience you can get anywhere else.
There's also the "Soul King" mode in which players control a phantom creature and scurry around the stage looking for soldiers to possess and manipulate to kill the competition. Unfortunately, this mode tires quickly thanks to bewildering mechanics and quips from the phantoms that the Crypt Keeper wouldn't even use.
Splitting a game between two genres can be a tricky task. While it allows for a refreshing isolated run through, preconceived expectations about one of those genre's can limit play in a broader sense. However, in lasting fashion, F.E.A.R. 3 challenges itself to find a grey area without sacrificing the bravado of first-person shooters or the whitening terror of survival horror games. It may not succeed without a few scratches, but F.E.A.R. 3 delivers two sides to one gritty, well-rounded coin.