The following is a review of the game that makes the recent releases of FIFA 10 and Pro Evolution Soccer 2010 seem trivial. Yes, it's Football Genius – The Ultimate Quiz (pun credited to GamerNode Director Eddie Inzauto).
And that's the first and last time I'm going to make fun of the game, because it doesn't deserve any more mickey taking. There's nothing abhorrent, nor worthy of serious criticism in Football Genius. It is the Ronseal's Wood Polish of Xbox Live Arcade games, in that it does exactly what it says on the tin — almost. It's certainly a quiz about football, but I wouldn't exactly call it "the ultimate" one.
It's pertinent here to remind that Football Genius is talking about real football here, not American football. But if you're American, chances are you're still stumbling over the above reference to a British wood-dye manufacturer. All of which is important, mind you, because this quiz is very much about the European definition of football, and indeed about European football. No NFL questions in here — and no MLS ones for that matter.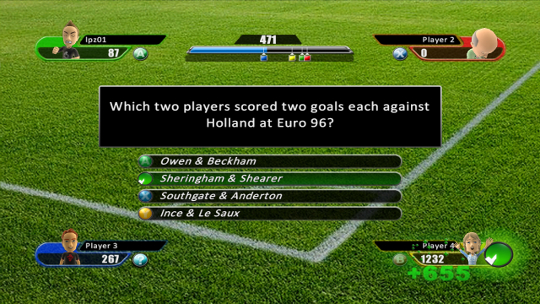 So if none of that interests you, stop reading now. Not that there's much more to say. Football Genius is a neat if unimpressively presented quiz game, featuring many of the same question formats found in Buzz and Scene It? games, i.e. each answer tagged to one of the four face buttons. It even works with the Scene It? controller, which is handy. Other formats seem to borrow from A Question of Sport, particularly with the picture-based rounds, which often provide the most fun. Oh yeah, A Question of Sport is also British; I assumed Americans had stopped reading.
There are 3,500 questions in total, and six optional questions packs including International, English, French, German, Spanish, and Italian. It's a good test for those who like to profess pan-European knowledge of the beautiful game, but those like me with purely national knowledge might find the individual packs easy.
My only real criticism of Football Genius is that once you enter double figures for playthroughs, repeated questions rear their ugly head. Also, while Football Genius' online play works a treat, and there are leaderboards, both are chiefly redundant by default because nobody else is playing the game, just under a month after its release. Unless you can find a friend to play a private match with, Football Genius will be a strictly local play affair.
But for an XBLA game at 800 points, players shouldn't expect much more. This is a game for when you're watching footie with your mates, slotting in as half-time entertainment while you enjoy a beverage or three. After a few matches, however, chances are you'll be back on FIFA for the rest of the season.