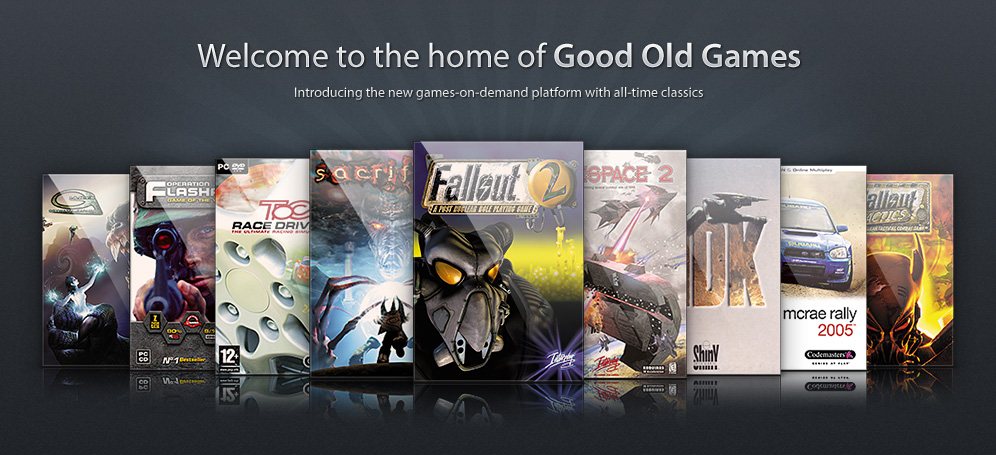 In celebration of the service's one-year aniversary, GamerNode recently got the opportunity to sit down and interview PR & Marketing Representative for Good Old Games (GOG.com) Lukasz Kukawski about the service itself, the company's philosophy, publishing partners, the staff's favorite games, and GOG's plans for the future, among other things. GamerNode's Phil Williams (boldface type) does the questioning, and gets some very good answers. Give it a read, because who knows, there may be a chance to WIN 10 FREE GAMES on GOG.com if you make it to the end of the article! *hint*
First of all, congrats on your first birthday, guys! GOG.com seems to have really taken off over the last 12 months. How has it been for you?
Thanks, the last year was really great for us. When we first announced GOG.com just before E3 last year, gamers and gaming journalists went crazy! There were some big expectations before we let in the first users who signed up for the Closed Beta, but it turned out our service and the whole "GOG experience" exceeded those expectations – we've received and we're still receiving lots of emails with positive feedback from our users. After the first … then came time to work hard and to maintain the interest of gamers with the old games. Thankfully our Business Development secured lots of great deals with publishers and we've managed to revive lots of great titles from the past. With the things to come in the next few months I believe the next 12 months for GOG will be even better :)
One of the biggest draws for using GOG.com is that all the titles are DRM free. Was this always the plan when you were putting the service together? How have publishers reacted to that requirement in the year since launch?
Yes, from the very beginning we knew that we won't have DRM in our games. We're gamers ourselves and we hate all those restrictive copy protection schemes as we believe they're not the best way, in our opinion, to fight piracy. DRMs usually make the life of legitimate customer harder with all those on-line registrations and limited number of installations, and if you download the game from a torrent site, it's already cracked and deprived of the DRM. We believe that the best way to encourage gamers to buy original games is to offer good games, reasonably priced and with some added bonuses which they wouldn't get with the illegal download — that's what we're trying to do at GOG.com and with The Witcher (we're part of the CD Projekt group of companies that includes CD Projekt RED development studio, the creators of The Witcher).
As for the publishers reactions on our DRM-free approach, they were pretty good. You can see it by the growing number of companies that decided to join the "DRM-free revolution" at GOG :). Of course some publishers are a bit afraid of releasing their games without any copy protection, but we're trying to convince them that the games we're interested in are so old that if someone wanted to pirate them, they've probably already done it. Besides, in most cases publishers aren't doing anything with the old titles, so GOG is a great opportunity for them to monetize their back catalogue.
We have to mention the extras that get bundled with games. Everything from manuals, soundtracks, and avatars, right up to exclusive artwork, screen savers and the like. How hard is it to collate all this stuff? How do you find it all?
The additional materials are a very important thing as it's another incentive that might encourage people to buy a legal copy at GOG rather than download it from abandonware. If we get lucky, we receive the addons from the publisher or developer, but unfortunately in most cases we have to dig through the internet or our own private archives. The older the games the harder it is to find any materials for them, but we do our best to get our users as much bonus stuff as we can.
You have two price points across the whole range — $5.99 and $9.99. What's the thinking behind that? Are there any plans to add any other price points?
You forgot to mention the third price point: $0.00. We have three games that are completely FREE to everyone who registers on GOG :). But we've chosen the two price points which in our opinion are some sort of compromise between what gamers are willing to pay for older games and how much we and publishers want to sell those games for. That's what I was saying earlier, offering good games for reasonable price. I believe we're doing just that. As for plans for other price points, at the moment there's no reason to add it. Maybe later in the future we'll do something about it, but right now let's leave it like it is.
When you download a game with GOG.com, you get a really nice, easy installer, and none of the hassle that used to be associated with installing games on the PC — manually assigning IRQs, extended and expanded memory, etc. It used to be a nightmare. How long does it take to go from the original DOS or Windows files to the end product that goes up online?
Oh man, I remember creating different boot disks on floppies for different games and changing the config files, it really was a nightmare ;). On GOG we're doing everything to make it as easy as buy, download, and play. The time spent on optimizing the games to run flawlessly on modern operating systems depends on the game: it can be a couple of days up to a couple of weeks. Sometimes our programming team just makes some tweaks with the game and sometimes they have to use all of their skill, knowledge, and some black magic to make the titles run on XP or Vista. With DOS-based games we're using the DOSBox software and we have support from the DOSBox team who are really helpful and we appreciate it a lot.
---
So what's the process for getting a back catalogue on board? How do you decide which titles you're going to take from a publisher?
Basically saying we're going after old games, at least 3 or 4 years old, that were critically acclaimed by gamers and gaming media. But we're also looking for games that went under the radar of gaming journalists, sometimes because of bad marketing or because they were released in the same time as other big titles, but are considered by many gamers as cult games.
When we decide what games we're looking for, our Business Development team starts to search for the rights holders and this can be a real pain in the ass. In many cases the original developer or publisher, who owned the rights to certain titles, was bought by another company or went bankrupt, so it's really time consuming to find the right person who might help us to solve those tricky situations. When we finally contact the owners of the game we send them the agreement and start negotiations which also can take up to couple weeks or even months.
You have some really big publishers on board — Ubisoft and Codemasters, for example. Does that mean we might eventually see the likes of EA on your service?
Our goal is to make GOG.com the ultimate place for classic PC games and their fans, to achieve that we have to offer the biggest catalogue of classics. We've already secured the deals with the mentioned Ubisoft and Codmasters, but also Interplay, Apogee, Rebellion, Epic, almost 30 publishers. Electronic Arts owns a lot of old IPs that we'd love to release on GOG and I believe it's just a matter of time when we'll offer those great titles to our users.
What are your thoughts on competing game services, like Metaboli (Gametap in the US)? Now that Steam has started offering back catalogues — sometimes the same titles you offer, like Sacrifice/MDK/Kingpin, from Interplay — is their higher profile going to eat into your userbase?
The digital distribution market is growing with every year and it's a normal thing that new platforms for digitally downloadable games appear and the competition gets bigger. But right now we're not considering other platforms as direct competition for GOG, because we're focused on old games while others are mainly about new releases. Steam has started releasing some classic PC games, but I think it's just an addition to their whole offer and won't make a bigger impact on our userbase. Every platform has it's unique features and offerings and in my opinion there's no reason we couldn't exist next to each other.
Is there a worry that your users might buy a couple of titles for the nostalgia, then just go back to the latest-greatest-newest games? This industry has, after all, been built on obsolescence as a driver of new sales.
Well, it's a fact, our users buy the old games from GOG as well as the new releases. It's a normal thing, but classic games have that something special that make us gamers to go back and replay them again and again. It's just like with movies and music. I'm a huge fan of old games as these are titles that I grew up on, but that doesn't mean I'm not waiting impatiently for the big hits like Modern Warfare 2 or Gran Turismo 5.
Does the team have any favourite games? Anything you come back to again and again in the lunch hour?
I think the team's favourite are the first two Fallouts, but if we're talking about multiplayer games which we can play all together in the office these have to be Unreal Tournament 2k4 and Duke Nukem 3D. If you haven't played those games, be sure to make it up.
What are the games that you would kill to have available on GOG.com? I'd love to see Elite, Syndicate, and a little known RTS called Baldies; that was awesome :)
I remember Baldies. Haven't played it, but remember reading about it in PC magazines back in the days, it looked like a funnier version of The Settlers. I'm a huge fan of point-and-click adventure games, so I'd love to see the LucasArts and Sierra games on GOG as soon as possible. But there are hundreds of games that deserve to get revived: Baldur's Gate, System Shock, Planescape Torment, or Syndicate you mentioned. We'll do our best to bring those titles back.
What are the plans for the next 12 months and beyond? Can we expect more classic gaming, or do you have any plans to branch out — perhaps offer games from different formats, or port titles to Mac, for instance?
I can't reveal much as you wouldn't have any surprises then :). All I can say is that we have some big deals coming pretty soon with lots of great classics. Aside of expanding our catalogue of Good Old Games, our dev team is also working on the site update that will bring more cool features to the service itself. There are also some other plans to keep our users entertained as GOG.com isn't just a regular digital distribution outlet, but the best place for classic games fans on the internet. I promise you we'll keep adding lots of cool things, we're just getting started. :)
Thanks, Lukasz!
"Now how do I get my free games?!?!" That's the question on your mind, of course. Well it's easy, simply register on GN and leave a comment below to be entered in a drawing for the 10 free games OF YOUR CHOICE on GOG.com. The winner will be selected randomly, and contacted within one week of the article's posting date. Good luck!