[flash width="540" height="328"]http:/www.viddler.com/simple_on_site/436a301c[/flash]
New footage of thatgamecompany's (TGC) upcoming sociological adventure game, Journey, was recently aired on GTTV.
The US developer, which is known for its quirky concepts such as Flower and flOw, speaks about their new project in the video and gives the first glimpe of gameplay.
"One thing we want to try with Journey is to create this feeling between two complete strangers," TGC's creative director Jenova Chen said. "It's like you're on a hike and you're heading somewhere. And on the path, you might run across other players paths. You guys could stay together or leave each other."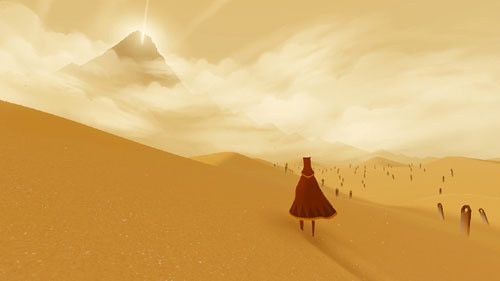 The downloadable game focuses around a vast, open world that allows players to explore while unable to speak with others around them. The game urges players to commuicate thorugh raw interaction in order to progress onwards. As the game unravels, players will discover more and more about the ambiguous land they're adventuring through.
Chen described Journey's world as "fantasy" with a little bit of "sci-fi". TGC's president, Kellee Santiago, said the game's world is meant give the player "a sense of maybe awe or wonder" while rendering them "powerless."
"We're always curious how to see how people are going to react to a new way of interacting," she said.