Remember the Flash game, Defend Your Castle? In it, stickmen would attack your castle, and you would use the mouse to fling them away, causing hilariously entertaining stickman devastation. Not surprisingly, the concept became a popular game on the iPhone, called Stick Wars. It was the number one gaming app for quite a while, and the de facto King of Castle Defense. Until now. Chillingo's Knights Onrush is, without a doubt, the best castle defense game currently on the market.
As far as gameplay is concerned, it doesn't do a whole lot of surprising things. Tiny knights assault your castle, and you flick them with the touchscreen, until you survive (or die). A simple concept, and perfect for the play-in-bursts nature of Apple's platforms. The goal is to, obviously, defend your castle. In conjunction with that, though, you'll want to earn gold and sacrifice enemies so that you can create weapons and defenses to help your flicking finger. There are multiple defenses you can build, and which ones are available in the Shop that you can access between enemy waves depends on which of the 12 stages you're playing. Some will offer you access to all options, making it a personal (and tactical) choice. Others will limit you to only one or two actual defenses, making it a lot harder to take out the enemies.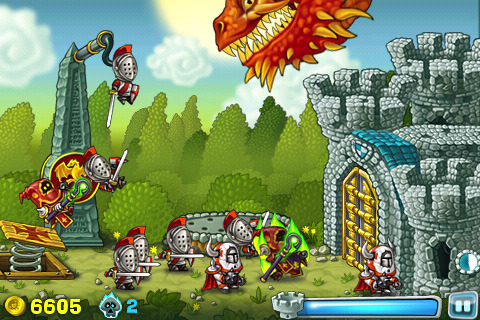 You may be wondering how a game that sounds so by-the-book could be the de facto king of the genre. That's because innovative changes to the castle defense genre isn't where Knights Onrush dominates; where Knights Onrush dominates is in style and the environment.
Stick figures? Those were so 2008. Knights Onrush sports fully animated cartoon knights, and not just one or two; in total, there are eleven different enemy types to worry about. Each has its own unique abilities, making it a strategic choice when it comes to which ones you target first. The character designs are very similar to another popular game, Castle Crashers. (But thankfully this doesn't have the same game-ruining bugs that Castle Crashers launched with on XBLA…)
Not only are the knights … cute, but the music is, for a game of this genre, fantastic. It's rare to find a handheld game with a soundtrack this good; it's especially rare to find one in a game of this type. Usually, awesome soundtracks are reserved for RPGs. But not here!
On an iPhone, castle defense games are probably one of the best genres you can play, as a gamer. It's quick to play, easy to understand, but remains fun for much longer than it should. Add to that addictive quality the highest production values seen yet on any castle defense game, and you have a winner of an iPhone game.