[flash width="540" height="328"]http:/www.youtube.com/v/OZT-pu9Sk9g?fs=1&hl=en_US&rel=0&color1=0xe1600f&color2=0xfebd01[/flash]
Mega Man Online (not to be confused with Mega Man Universe) is a strange beast. It looks like a classic 2D Mega Man platformer, but it's an MMO. It looks like a formula that could work, but on the hundreds of players at one time MMO sort of scale, it seems a bit grandiose. And then there is the issue of the story. The first trailer for the game showed the original Mega Man interacting with some secondary Mega Man X characters, but this shows the two easily confusable blue bombers fighting giant robots side by side, or at least within a couple hundred feet of one another. Mega Man and Mega Man X both exist in the same Universe, but their stories are hundreds of years apart.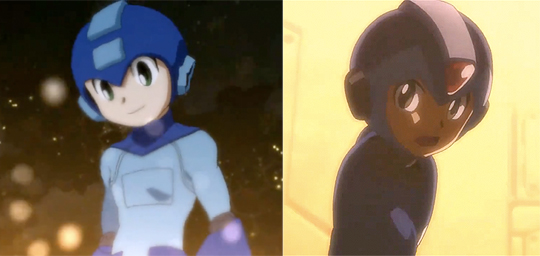 Notice the red diamond in the helmet on the right? These are completely different robots. To confuse them is blasphemy.
Mega Man Online's American fate is currently unconfirmed, as it may only be showing up in Korea. Perhaps all we will ever see from the game are these awesome animated trailers, which is a pretty darn good consolation prize. Check out the original trailer below, along with some gameplay footage.