The Mario Kart series has established a concrete identity at this point. It leaves Nintendo with little room to experiment or shift the series in a new direction, and yet Mario Kart 8 doesn't feel like a complete rehash of past games. It contains all the series staples, but the new HD visuals and stronger emphasis on skill give it a jolt of life that's been missing from the series for a few years. It won't sway anyone's opinion of Mario Kart in general, but Nintendo aims to please fans with the eighth entry in the series and ultimately succeeds.
We all know the drill: drift your way to first place, get hit by a blue shell, and proceed to yell at the Mario Kart gods. It's what makes the series simultaneously fun and aggravating. The anger eventually dissipates in a group setting, but the memory of dropping from 1st to 5th place in the final seconds lingers. There's a difference in Mario Kart 8 – those moments aren't nearly as constant as I remember. I can actually hold onto a first-place lead for a long time. The threat of Toad slinging a red shell my way or Donkey Kong bumping me off the track remains, but I actually feel like I'm being rewarded for my skill on a more frequent basis. It's a wonderful feeling
Aside from that, there's not much to say about Mario Kart 8's mechanics. Players still collect a variety of items in order to screw over opponents, and proper drifting remains an important indicator of skill level. The game does introduce a few new items, including the Super Horn, which can ward off blue shells. Yes, you read that correctly. It's a very rare item though, and it does little to change the essence of the series. Some will see the lack of change as a negative, but eight games later and the core Mario Kart formula still works. Familiarity restricts Mario Kart 8 from that upper echelon of greatness, but I had fun playing the game. Sometimes that's what matters most.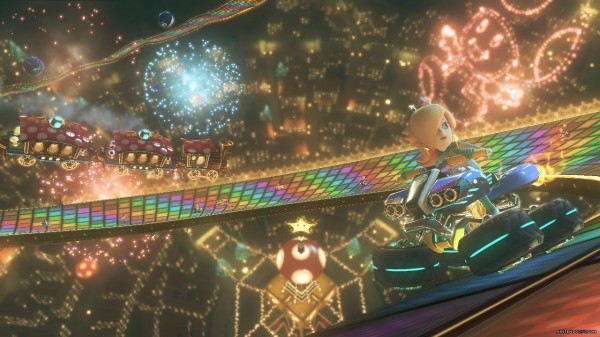 One of Mario Kart 8's greatest strengths is its map selection. It includes 32 tracks in total – 16 of them new, and 16 retro tracks. Seeing familiar courses from past entries in the series is always a treat, such as Toad's Turnpike from Mario Kart 64 or Donut Plains from Super Mario Kart. But the new tracks in Mario Kart 8 stand out as some of the best in the entire series. My personal favorites are Twisted Mansion and Mount Wario, which feature plenty of flashy moments that involve flying, boosting, or some other variation of efficient movement. The new tracks also boast fantastic art, which truly shines on the Wii U hardware.
The series makes the jump to HD visuals in Mario Kart 8, and though it doesn't change the mechanics in any meaningful way, it does enhance the overall experience. The assortment of vibrant characters and courses really pop with the help of crisp HD visuals, and it gives Mario Kart 8 a certain polish that I wouldn't normally equate with some other entries in the series. It also bolsters the highlight reels and the ability to edit them. Anyone who's been paying any kind of attention already knows about the Luigi death stare videos. Aside from being hilarious, they also look fantastic.
Mario Kart 8 can be a solo affair, but it's a game meant for multiplayer races. Just like other entries in the series, it stands out as an ideal party game in which local multiplayer provides hours and hours of quality entertainment. Trust me – when your friend hits you with a banana peel, you'll never feel the same way about them again. Mario Kart 8 also features online multiplayer, which works surprisingly well. Nintendo is not known for top-notch online experiences, but I've had plenty of great online races with little to no performance issues. And the stronger emphasis on skill prevents some of the frustration that comes from particularly chaotic Mario Kart races.
People who like Mario Kart will enjoy Mario Kart 8, and those who don't won't be convinced otherwise with the newest entry in the series. It's a familiar scenario, but Mario Kart 8 touts enough subtle tweaks to avoid staleness. The game feels more competitive, the new courses are mostly excellent, and online play is often a blast. Those three things should be enough to convince series fans and Wii U owners to play Mario Kart 8.