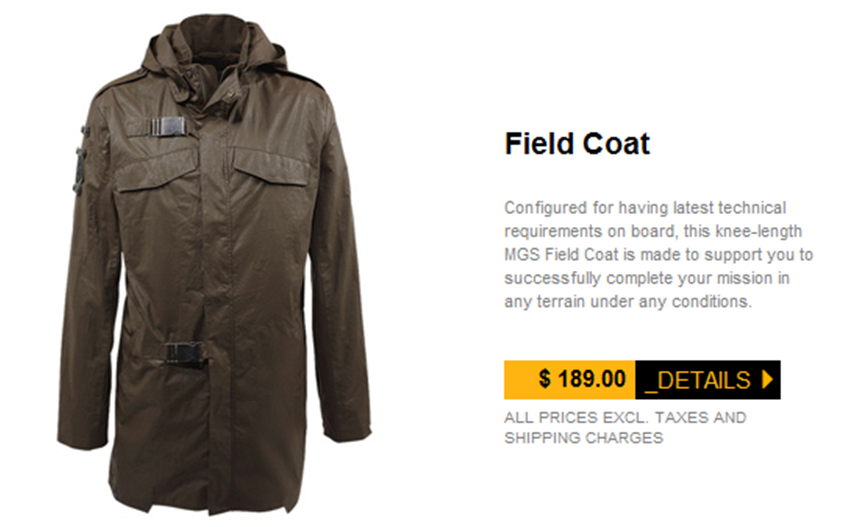 For those who have longed to don the garb of Solid Snake and his entourage, Konami delivers the answer. Now available on the Metal Gear Solid Store are various articles of clothing inspired by the characters from Metal Gear Solid: Peace Walker for the PlayStation Portable.
Although Konami caught some flak for the fairly brazen use of product placement in Peace Walker, that hasn't stopped the company from expanding its product offerings. The new clothing line features t-shirts, jackets, pants, and a hat, all of which will cost a pretty penny to score in the mail. All told, a complete collection of every piece of clothing offered (there are six) would cost upwards of $440.
But for those willing to dish out the dough, this sleek new clothing line will provide the "latest technical requirements… to support you to successfully complete your mission in any terrain under any conditions." There's been no official word revealing whether or not these items will be mailed in cardboard boxes.
Check out the full press release below.
KONAMI ANNOUNCES METAL GEAR SOLID®: PEACE WALKER CLOTHING NOW AVAILABLE
The First Complete METAL GEAR SOLID Clothing Line in Franchise History Now Available Online in North America
El Segundo, Calif. – Apr. 11, 2011 – Konami Digital Entertainment, Inc. today announced the availability of a new branded clothing line for men based on KONAMI's METAL GEAR SOLID®: PEACE WALKER for the PSP® (PlayStation®Portable) system, released in 2010. This is the first complete clothing collection for the franchise, allowing fans to show their METAL GEAR SOLID love by dressing the part from head to toe.
"Our partnership will give fans the opportunity to 'suit up' for one of the most successful video game franchises of all time, specifically for METAL GEAR SOLID: PEACE WALKER," said Careen Yapp, Vice President of Acquisitions and Franchise Development of Konami Digital Entertainment Inc. "The mass success and support for our latest METAL GEAR SOLID hit has allowed us to expand beyond what we've done in the past with the series, and we are very much looking forward to offering this new line to a global community of fans."
The clothing line was created in partnership with musterbrand LLC, a global design group focused on bringing digital creations to the real world.
"METAL GEAR SOLID is one of the longest running video game franchises with an incredibly dedicated fan base, making METAL GEAR SOLID: PEACE WALKER and KONAMI the perfect choice to partner with for a new collection," said Knut Bergel president and chief executive officer of musterbrand LLC. "The new clothing line allows fans to extend their experience with the franchise even further through a unique and fashionable style."
The collection, featuring well-known PEACE WALKER images, includes coats, sweatshirts, pants, t-shirts, and hats, all inspired by clothing worn by characters in game, is now available for purchase online in the US and Canada at www.metalgearsolid-store.com. Additional items in the clothing line will be released quarterly and surrounding certain special events throughout the year.