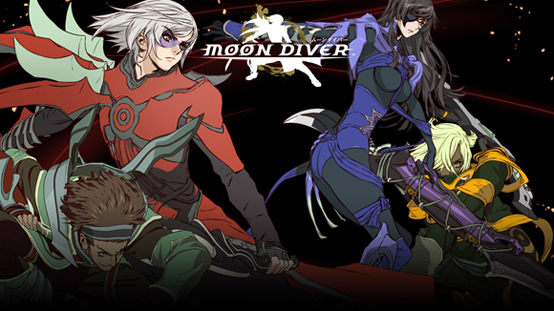 Moon Diver is built to devastate. The game begins in a flash, letting players choose between four different warriors with indistinguishable names and slightly different levels of mana, power, and health. You have the red guy, the blue woman, the green dude, and the yellow kid. It's Ronin Warriors. It's Power Rangers. Pick your favorite color and go.
The plot, if there is one, is indecipherable. Told through still images and text, I felt like I was reading the lyrics of a Blind Guardian song come to life. There's a villain that looks like a cross between Kefka and a Twilight character and he's… doing stuff… in space… and you have to stop him.
Seriously, with stage names such as "I Told You Not To Come Here!" and "Run Ha Ha Ha," the story and the characters it involves aren't the game's main selling point. Instead, it thrives on its action, and there's plenty to go around. Moon Diver was directed by Koichi Yotsui, who also helmed the Strider series. The influence is evident and welcomed.
To start, the game seems stripped of any complex gameplay, as button-mashing provides a nasty melee assault. You'll literally be mowing enemies down in a single slice. Quickly, and somewhat insuperably, Moon Diver's challenge rises, forcing players to use the game's other forms of offense to down foes.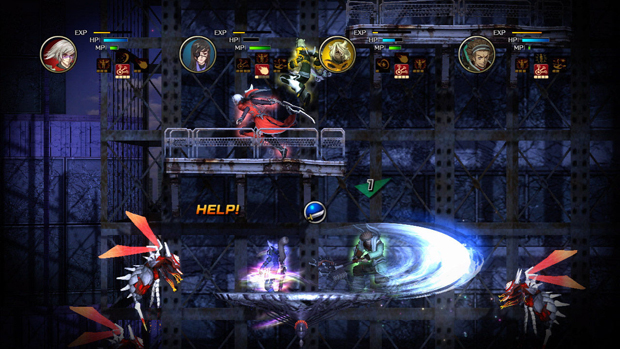 Each character has four slots for special attacks. These attacks use mana points and range from full-screen barrages to status-altering charms. While the latter do include some intriguing powers, they're not very effective. The showstopper attacks, which seem a bit too overpowered at the beginning, become a necessary crutch to lean on… frequently. Dire situations often abound.
Of course, most of my experience with Moon Diver came from a single-player perspective, which is not the ideal setting. This game punishes you pretty thoroughly if you're playing alone. What starts out as an innocent Strider-like tango of precise dodges and elegant swordplay turns into a vein-popping endurance test. Suddenly, Strider Hiryu becomes Ryu Hayabusa.
Don't think that detracts. Though the challenge can seem insufferable, Moon Diver is seriously addicting, and there is always the option to slickly evade most of the enemies you encounter. Doing so is not a wise idea, as it sacrifices experience points, which are gained through fighting and divvied out to increase mana, health, or power. As for enemies, most are repeated, so variety isn't a strong suit. However, the climactic boss quickly resolve that issue.
A minor gripe with the game is that there is no "back" button for any of the menus. So any time an adjustment needs to be made before starting a level, the only only option is to quit the game and start all over. It's not that big of a deal, but it becomes an issue any time you forget to change a special attack or want to select a different character.
Without cooperative play, Moon Diver can be infuriating. So much so that quitting sometimes seems like the best option. For those who still cherish their Ninja Gaiden cartridges and enjoy the masochism that can be sidescroller beat 'em ups, however, this game will feel right at home.