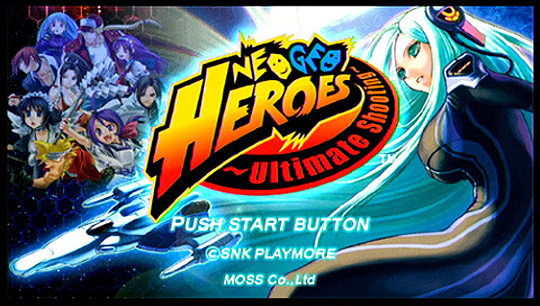 For fans of all things NEOGEO, there is finally a game that takes all your favorite characters and places them into a genre pretty much none of them are familiar with, in the form of a shoot 'em up. NEOGEO HEROES-Ultimate Shooting for the PSP is strange in it's execution, but not necessarily in it's concept. Take a whole bunch of recognizable characters from games like Metal Slug and Samurai Showdown, and put them in the same game. Usually these sorts of mash-up games involve punching and kicking in order to figure out who would be beat who in a series of fanboy dream-come-true fight scenarios, but this one is a little different.
Straight from the press release:
"10 great SNK heroes and heroines have left their worlds to answer Dr. Brown Sugar's 'call for peace'."
Dr. Brown Sugar doesn't ring any memory bells when it comes to the NEOGEO's library of characters, but he sounds like a good enough dude. Calling for peace is generally considered a noble cause, even if you have an absurd name. Bono has been doing the same thing for years.
Look for the game today on the Playstation Network for the PSP, and look for it to set you back $20. If you want a more traditional NEOGEO experience, you're going to have to wait until January. Look below the screenshots just under this paragraph if you want to get some more specific details about the game, and see what other characters you can shmup it up with.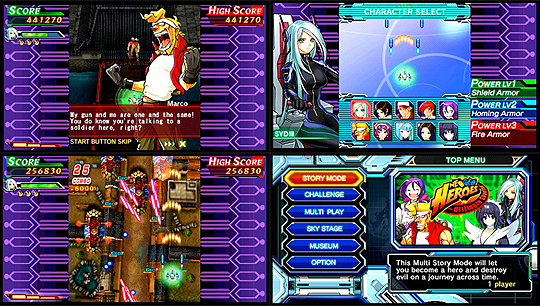 NEOGEO HEROES-Ultimate Shooting Game Features:
Features 10 SNK characters coming from legendary NEOGEO titles including: Iroha from Samurai Shodown VI, Marco Rossi from Metal Slug, Akari Ichijo from Last Blade, Athena Asamiya from Psycho Soldier/The King of Fighters, Terry Bogard from Fatal Fury, Mai Shiranui from Fatal Fury, Kyo Kusanagi from The King of Fighters, Iori Yagami from The King of Fighters, Kula Diamond from The King of Fighters, and SYDIII from Armored Scrum Object.
A Multi Ending Story, the Taunt System, and numerous impressive Special Moves
A CHALLENGE MODE to unlock artwork and badges and a multiplayer battle mode.
PSP Widescreen Mode – Use the D-Pad to control your ship and the analog stick for attacks.
A special MUSEUM MODE" that features "GALLERY" to enjoy game's development and ending artwork, heroes and bosses' profile and story, "MUSIC" to listen to the in-game music, and "RANKING" to check players' results.
Bonus Arcade Version of "KOF SKY STAGE" is also included.