The latest addition to the Pinball FX2 Xbox LIVE oddity is back. The series is a little bit different from other Xbox LIVE games, and you can find out why by clicking here or here to read past reviews of the game that is really more of a digital platform than an actual game.
The latest board is Mars-themed, and is presented in all capital letters as MARS, in order to assert its dominance over the other available boards. As you may have already guessed, this board takes place on Mars and features things like spaceships, alien terrain and futuristic spider robots.
The board is fairly straightforward, but does do a few things to set itself apart for the other boards once you get deep enough in the game, and once your score climbs high enough. There are opportunities to interact with the spaceship and spider robots, but one of the most interesting things MARS brings to the pinball table is the occasional lack of gravity. There are times when gravity will disengage and the multiple balls you are trying to keep track of will begin to float above the table with no opportunity from the player to direct them in any way.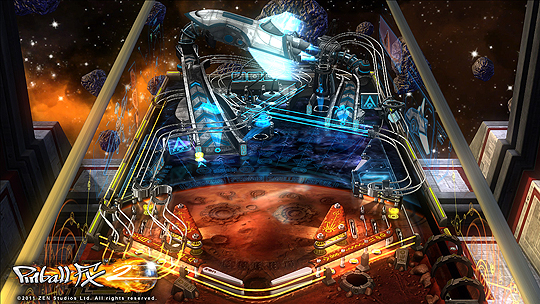 Aside from the gravity changing, and and general theme of the board, it's all pretty straightforward with little new to offer. It lacks the crazy dips, turns, and trademarks of the Marvel tables, and falls in line with the other non-Marvel tables as just another board. It's fun to play, but so are the rest of the pinball boards.
Pinball FX2 is a great pinball game, and this new MARS map is enjoyable, but bland. If you have already spent some of your MS Points on the boards available in Pinball FX2 and are looking for an excuse to reconnect with the game, then by all means, pick up MARS. All of the great multiplayer features are still intact, and the addictive high-score-seeking pinball machine runs just as smoothly as it always has, even if it is taking place on a planet that, at its closest possible distance, is approximately 34 million miles from Earth.
If you're looking to take your first small step for man and one giant leap for mankind into pinball, then this probably isn't the one to do it; you're better off sticking with Spider-Man.