We begin on a vibrant beach. Crustaceous fiends click across the milky sand to our hero. The battle is sharp and dodgy. Rather than cool-downs and planted feet, our character hustles and slashes. This is the first segment in Perfect World's upcoming free-to-play MMORPG, RaiderZ.
Unlike other MMOs, RaiderZ is a "classless" game, according to Perfect World Product Manager Mark Hill. In other words, while you do choose a class at the outset, you are free to divvy experience points to other class abilities as well as use other class weapons. Mixing and matching is encouraged.
With these open-ended trait options, RaiderZ aims its sights on staggering boss fights. The absence of a targeting system begets immediacy in battle; the ones shown were kinetic and close-quartered. Bosses in the game are also always available to challenge. The lumbering creatures are located in different areas of the map and respawn frequently, allowing a sense of grind and accessibility that compliments the game's freedom.
Everything is in real time. Aside from a few in-cave adventures, there are no instances in the game. RaiderZ dares you to collect and craft, to build and perfect, to hone and combine. Enemies in the game drop items as you defeat them. Sometimes they're simple healing trinkets; others are new weapons that can be used for a limited amount of time.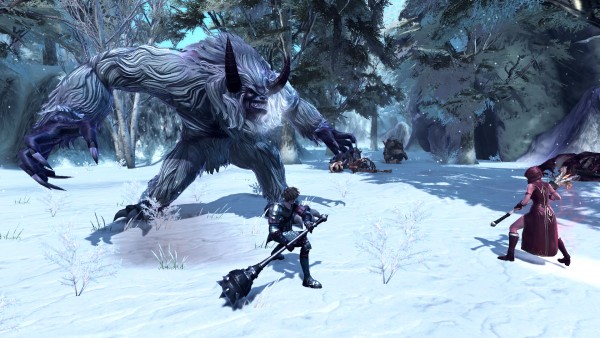 Mounts, like the weapons and class skills, are available after hitting "Start." In the demo, our handsomely stacked character took seat atop an enormous white wolf – "evil Falcor" as Hill put it. After besting our first big-time foe – a giant wielding a column ripped from Grecian architecture – we set out in stride with evil Falcor to face foe number two.
We approached a clearing. In the middle sat a hulking toad-monster. Horns jutted from its back, its wide mouth salivated, its webbed feet trampled across grass toward us. Foe number two was here. A swift leap caught us off guard, tossing our hero from evil Falcor, who vanished like a ghost. We evaded and slashed. The toad creature advanced, mouth agape. Could we be eaten?
Hill assured us we could. Get too close to its mouth, he warned, and the monster would swallow, chew, and spit you back out. This is one of the many reasons why battles are designed for hunting parties of up to 15 players. Or as game's website puts it:
"In RaiderZ, you must hunt together, or die alone."