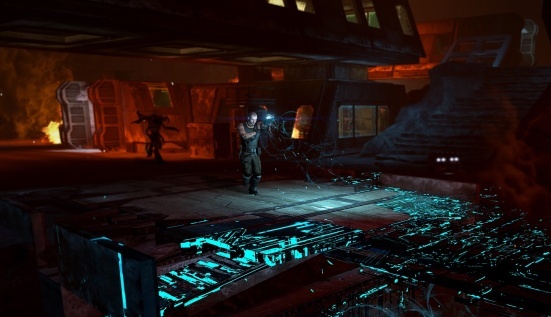 Red Faction: Guerilla had Wrecking Crew and Armageddon has Ruin mode. If the name doesn't tip you off, Ruin is all about destruction, arguably the best feature of the next-gen Red Faction titles. Giant smokestack next to a laboratory? Toppled. Skyscraper with steel supports? Demolished.
Ruin mode calls for players to destroy as many buildings, shacks, and destroyable boxes in a time-limited stretch, offering time bonuses for big chains of destruction and totalling points for leaderboard comparison. It's nothing remarkably new, but it has all the simple charm that Guerilla also offered. There's something intrinsically satisfying about bringing down a fifty-floor building by buckling its foundations, and that hasn't waned a bit.
Perhaps the most perplexing choice is that Ruin gives players unlimited ammo for whatever weapon they wield in the desconstruction battle. Limited resources always forced players to strategically plan which buildings would get the Rocket Launcher treatment and which would be hammered to the ground. Unfortunately, with the latest build of Ruin, certain weapons like the Plasma Beam Rifle and Singularity Cannon dominate the destruction landscape, leaving little room for the other, perhaps more unique weapons. The Nano Forge and Magnet Gun are the more interesting implements of war, but when players can project a plasma beam through entire structures with ease, the precision required by the lesser weapons (detonator mines especially) and the subsequent strategic elements are lost.
There's something to be said for the empowerment of Ruin, as players turn into God with a magnifying glass, but does the sacrifice make up for the BFG? In short, pretty much. I imagine that by the time of release, Volition will have tweaked each of these guns a bit to be less of a powerhouse and more of a regular tool. However, with the current build, it's hard to say that there's much to Ruin mode aside from the sheer pleasure of leveling entire cities and flaunting your high scores on the leaderboards (which shouldn't be underestimated). With a bit of balancing, Ruin could be an amazing addition to what is shaping up to be an engaging and exciting single-player campaign.