I grew up without any sisters; just a swarm of brothers and a deplorable amount of testosterone. So far be it from me as a youngin' to aim my gaming interests toward the tribulations of the fairer heroes when it came to video games. I didn't play Metroid until I was in high school. Tomb Raider has never graced my gaming library. The only female videogame character I frequently associated with as a kid was Ms. Dixie Kong, who is still better than Donkey in my book.
A game like Scarygirl, therefore, was a surprisingly unforgiving yet endearing experience:
A little girl clambers down hazed scenery. The environments are cartoonish but hintingly adult, like something from Genndy Tartakovsky. Faces crack the sides of mountain tops behind a school of geometrically conscious trees. The little girl is no Alice. She's a cross between Jack Skellington and Coraline. She's adorable, of course, but much like the intricate art around her, she's not so harmless. A spaghetti-limp arm stretches on her right, tipped with a malicious hook that acts as both a tool and a weapon.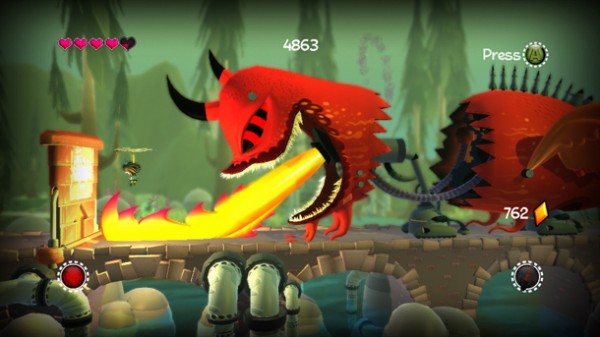 The idea of Scarygirl is a fantastic thought at the outset, as artist Nathan Jurevicus' work with the Scarygirl flash game and graphic novel conjured a stunning use of color, creature design, and malevolent presences. It seemed ripe for a downloadable. However, something is lost in the translation.
The further down the rabbit hole we go, the less engaging the game becomes. As an art concept, Scarygirl is about an abandoned ugly duckling battling her way through a breathing, staggering world. As a game, it struggles to unveil the twisted Oz-like land without marring it. Control and design deflate in frustrating fashion, leaving our heroine doing her best impression of the aforementioned Kong cousin without the same level of polish or accuracy; a helicopter ponytail is more effective than a helicopter arm.
Still, I found myself rooting for this bizarre, eye-patched shrimp despite her wonky maneuverability and imposing surroundings. She may not be Dixie or have the same fluid nature, but Scarygirl has a charm all her own. So much so that even youngin' Greg would have given the game a shot.