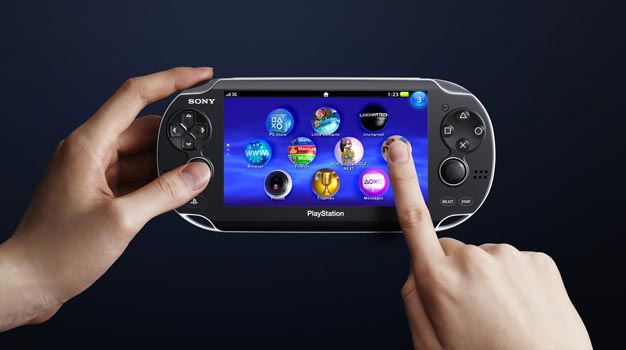 There have been all kinds of rumors regarding Sony's next handheld, and the company finally revealed the next-generation portable during its E3 press conference. Gamers can drop the nickname NGP, because it is now officially called PlayStation Vita.
The new handheld will include two analog sticks, front and rear touch pads, multi-touch capabilities, and dual cameras. There will be a Wi-Fi and a 3G/Wi-Fi model, and Sony is partnering with AT&T for the new portable. This partnership was meant with quite a few boos during the press conference.
In addition, Vita will allow people to chat with each other with a headset or the built-in microphone by using the party system. In addition, a social connection tool called Near will be featured. Near allows you to connect and play with others, compare trophies, and recommend games.
A small handful of Vita games were featured during the presentation, including LittleBigPlanet, ModNation Racers, and Street Fighter X Tekken. But the most impressive of the bunch was Uncharted: Golden Abyss.
The gameplay demo showed off some amazing visuals and the game's (optional) touchscreen controls. Other than that it looked to be a faithful recreation of the console titles.
Kazuo Hirai closed Sony's press conference by addressing some key details regarding PlayStation Vita. The new handheld will come out this holiday season, and the Wi-Fi model will cost $250.
The 3G/Wi-Fi model, on the other hand, will cost $300. These price announcements were met with a huge round of applause from the audience.
Vita's showing at Sony's E3 press conference seemed rather impressive. It should be interesting to see if the company's new handheld can find success this holiday season.