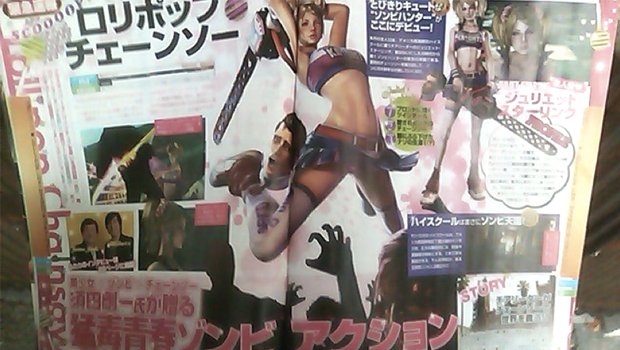 Grasshopper Manufacture CEO Goichi "Suda51" Suda is known for bizarre games such as No More Heroes and most recently Shadows of the Damned. But he may top himself with his next project, Lollipop Chainsaw.
The upcoming title was announced in this week's issue of the Japanese magazine Famitsu. The game will revolve around Juliet Starling, a young girl who is on her way to high school to meet up with her boyfriend on her 18th birthday. Unfortunately she encounters a bunch of zombies who turn out to be her classmates.
Suda revealed that this strange premise was actually conceived a while back.
"Actually I've wanted to do a crazy horror-action game like this set in a school for a while now," he said. "Something where the classrooms, corridors, gymnasium and so on are suddenly transformed into something completely different. I was also working on a game concept centered around using a chainsaw as a weapon, and once the idea for the Juliet character began to form, it was just a perfect fit."
The mention of a chainsaw certainly brings about ideas of gore and violence, but that won't be the case with Lollipop Chainsaw. Instead, Suda wants to focus on a different mood and tone.
"When it comes to gore, we can certainly go that way if we want, but we wanted to give the game more of a 'pop' feel," he said.
Yoshimi Yasuda, president of Lollipop Chainsaw publisher Kadokawa Games, also explained that Juliet will have additional moves in her arsenal.
"Since Juliet's a cheerleader, there's going to be action moves that take advantage of her cheerleading skills," he said. "There are other ways to attack outside of the chainsaw, too, and part of the fun is figuring out which move to use at which time."
No release date has been revealed yet, but Lollipop Chainsaw is set to come out on the Xbox 360 and PlayStation 3. In addition, Suda mentioned that an overseas publisher has already agreed to work on an English version of the game.
[1UP]