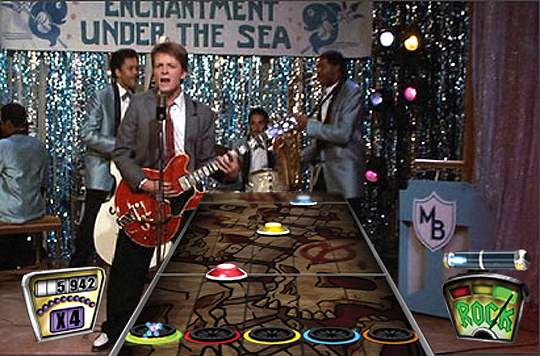 Telltale Games recently announced that they acquired the licensing rights to make games based on the Jurassic Park film franchise, and more importantly, the Back to the Future film franchise. USA Today has reported on a few new morsels of information about Marty and Doc's continuing adventures.
Telltale Games was able to secure the likeness of Michael J. Fox and Christopher Lloyd for their Back to the Future games, so we can expect their character models to resemble the original characters. Christopher Lloyd has also committed to lend his voice to the game, so get ready for rivers of nostalgia to start flowing when we hear Doc exclaim, "Great Scott!" There will be five episodes of the game, and Bob Gale, the writer of the original films, is on hand to help the developers get everything right. Gale and Telltale Games aren't sharing much about the story, but we do know that the DeLorean will make an appearance, 1985 and Hill Valley will be visited, and familiar characters will be appearing in the game.
Telltale Games is the development team responsible for the recent resurgence of point-and-click adventure games. They snuck in and stole the mantle of, "those adventure game guys," from LucasArts, much like Indiana Jones stole that golden idol in the beginning of Raiders of the Lost Ark. Instead of sneaking into the LucasArts development house and replacing the, "adventure game guys," trophy with a weighted bag of sand though, they just walked through the front door and grabbed it because LucasArts forgot they had it. I believe they stole a few old-school LucasArts adventure game developer employees as well.