It's time for another edition of The Sandbox, the weekly feature in which the GamerNode team members reveal what we've been playing over the past few days and what we've got on our plates for the weekend. This week we honed our stealth skills, rediscovered the addictiveness of mobile games, and traversed desert landscapes, among other things.
Mike Deas
My VERY little gaming time has gone into my insanely old backlog. Finally beat the DLC for Grand Theft Auto IV. I'm about to start inFAMOUS 2, with a sense that I'll be getting the PS3 Mass Effect trilogy for Christmas, so I'll start that when I get back to LA. On the go, I've been checking out Tales From Space: Mutant Blobs Attack and 10000000 (is that the right amount of zeros?!?!).
Jason Fanelli
Getting two wisdom teeth out does wonders for adding some free time, so I'm taking full advantage!
I started Dishonored, and I'm digging it. The story is cool, the voice acting is superb, and the kills… OH THE KILLS. However, I feel like it may fall into the "Won Best of E3, Didn't Win GotY" category. Maybe I need to get more into it, but so far something is missing. I'm not sure what.
I was alternating that with the Black Ops II campaign, but that can go pound sand as far as I'm concerned. Look, if there are things I have to do in the story to get the "best ending," I'm OK with that, but TELL ME what I have to do. I finished a mission and thought I did everything right, only to be told I didn't search well enough. BOLLOCKS. Oh, and checkpoints at major story points would be nice so I don't have to play the same mission FOUR TIMES, THANKS.
I've also re-re-re-discovered that my iPhone can provide some good times, too. The Simpsons Tapped Out, or what I like to call the Sims-sons, is AWESOME, especially for a free game. The 99-cent Santa Rockstar turns Christmas music into heavy metal, which is never a bad thing. Shakes and Fidget is a witty, tongue-in-cheek take on RPGs.
Oh, and my wife showed me this Hexic HD-like freebie called Candy Crush Saga. If you treasure your free will, DON'T PLAY IT. IT BECKONS ME, EVEN NOW.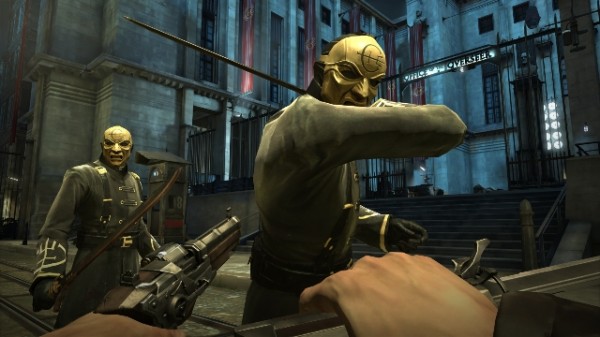 Eddie Inzauto
Looking to the weekend, I've got PLANZ. With a Z! (So you know it's serious!)
I've been rocking out on Far Cry 3, which was super impressive to start, but has since plateaued… like many other open-world games. I'm excited to turn my attention to Corvo in Dishonored, being an all-things-Bethesda fan ("all" is actually a boldface lie, but I do enjoy the company's games). On Dan's recommendation from a previous edition of The Sandbox, along with my love of all things stealth, Mark of the Ninja is on the to-download list, and to round out my stealthy season's greetings, Assassin's Creed III has been waiting patiently for me, so it's about time I give Connor some attention.
I think that will cover me for the week, and probably then some, but I'm in for a lot of gaming over the remainder of this month, for sure. Perhaps I'll even live-stream some of it on GamerNode's Twitch.TV channel. *foreshadowing*
Anthony LaBella
My trek through Far Cry 3's tropical island continues this week and things get weirder and weirder from a story perspective. The characters in the game are mostly awful, the narrative twists are ineffective, and there are a few too many trips to crazed out drug world. And yet a part of me remains entertained by the absurdity of it all – time will tell whether that starts to wear thin.
But hey, I didn't play Skyrim for the story and the same goes for Far Cry 3. I'm still having a blast hunting tigers, overtaking enemy outposts, and hang gliding over picturesque beaches. I'm thinking of introducing some new weapons into my arsenal this weekend despite my love of the trusty assault and sniper rifles. That new shotgun I unlocked at the store looks like it deserves some much-needed attention.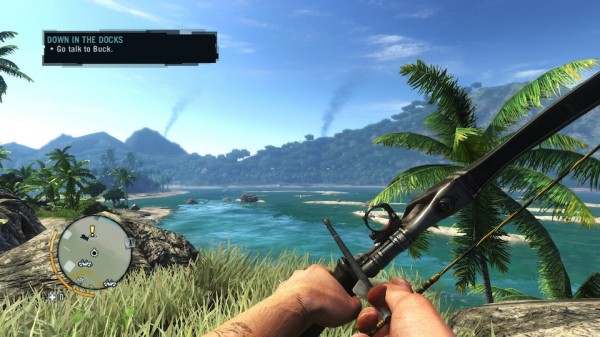 Aled Morgan
Now in the dying days of 2012, I thought I'd play catch up on the mobile space.
Every spare few minutes today I've been playing Super Hexagon, less a game and more the genesis of geometry as visualized from a rave. Describing it is hard, which is handy as Super Hexagon is exactly that: hard. There's even a difficulty level named "Harder." You press the screen with the thumb and move a little blip around a hexagon to avoid incoming hexagonal bad things. That's pretty much it – and it's awesome.
Looking to the weekend, I intend to continue my frontal assault on Mobile Land by checking out Double Fine's iOS debut Middle Manager of Justice.
Mike Murphy
I'm currently running a gauntlet of games I've missed in 2012 in order to prepare myself for Nodie voting.
Over last weekend I beat Assassin's Creed III. The ending was sad and satisfying, but I couldn't help but feel that a certain character got the shaft. Regardless, I did enjoy the game in its entirety and really can't wait to see where Ubisoft is going to take the franchise from here.
I also spent some brief time with Call of Duty: Black Ops II, which honestly left me wanting. The Pick 10 system is the best innovation for the series since Modern Warfare, but the map designs combined with the overpowering destruction of the game's shotguns has, in my opinion, had quite the negative effect on the multiplayer. Sadly I did not get the opportunity to try out the campaign or the co-op modes, but I hope to at some point in the near future.
Early in the week I had the pleasure of playing some Far Cry 3 as well, and I was very impressed with what I saw. The open world, customization for guns, crafting, and numerous sidequests really allow for a lot of playtime. The game is also a beaut and Michael Mando puts on a masterful performance as Vaas. I'm dying to get back to it soon so I can keep taking on pirates and liberate the archipelago.
Finally, I did something I should have months ago and picked up Journey. I was completely blown away by how amazing the visuals were here. The soundtrack is also one of the best I've ever heard. No wonder it's getting a Grammy nomination.
This was also one of the most fun multiplayer/co-op experiences I've encountered. Who knew lack of voice and text chat would create a deeper connection to one's companion? Plus, Journey had to be one of the most calming, soothing games I've ever touched. Normally games have the opposite effect thanks to their challenge, but it was so surprisingly nice to have one that gave the opposite reaction.
As for the weekend, there's more games to be played. I've picked up The Unfinished Swan and Sleeping Dogs and hope to get some time with both Fez and Mark of the Ninja by the end of next week. There's a lot of gaming in my near future. Wish me luck, dear readers!