It's time for another edition of The Sandbox, the weekly feature in which the GamerNode team members reveal what we've been playing over the past few days and what we've got on our plates for the weekend. This week we rediscovered the difficulty of Mega Man games, unleashed mayhem on the city of Dunwall, and spent the holidays in the land of Tyria, among other things.
Kem Alily
My sparkly new Vita was not getting enough one-on-one time so I have occupied myself with that lovely device. Instead of actually playing Vita games, abundant as they are, I delved into Final Fantasy: Dissidia 012. I never got a chance to indulge in this nostalgia inducing opus and so far I am enjoying myself thoroughly. In fact, I have an urge to replay FFXII and FFXIII, something that I thought would never happen… ever! Even greater than my urge to revisit past triumphs — if you consider completing five hours of FFXIII a triumph — is my love for the re-arranged music in Dissidia. It is a risky endeavor to approach any Nobuo Uematsu work, let alone create variants on the theme. It is done rather tastefully overall and the new tracks are well executed.
Mike Deas
With Middle Manager of Justice in my rear view (GREAT game) and a trip home for Christmas on the horizon, I've got a lot of mobile gaming to delve into. PS+ has me hooked up to my Vita for the foreseeable future and this week's free game dump on iOS has me giggling with five minute time killers. When I return to LA, I'll be jumping into Mass Effect as Fem Shep.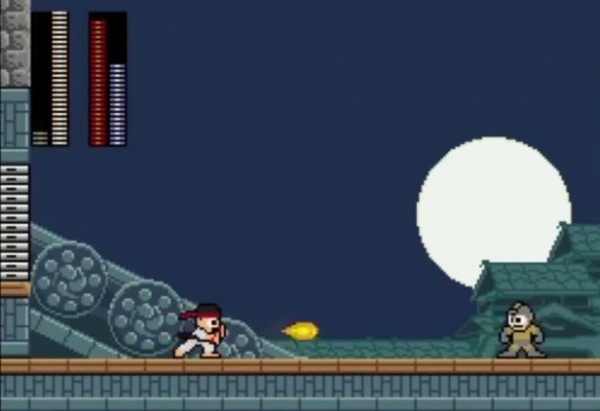 Greg Galiffa
With Capcom's fan service now underway, I've been testing my patience with Street Fighter X Mega Man. I've never been good at the original Mega Man titles. I always leaned towards the X series. Suffice to say, I have not been doing well with Capcom's latest crossover. I spent about 15 minutes failing to get past the second screen on Ryu's stage. At least the music is cool.
Speaking of 2D side-scrolling Japanese shooters with good music, Cave Story is a nice treat. And I'm good at it! Between my weekend marathon of Hitman: Absolution and my decline in physical activity was Cave Story. It's charming, witty and has some wonderful sprite art. Worth every penny of my $2.50. Oh yeah, by the way, I reviewed Hitman: Absolution. Check it out.
To keep me warm as my car heats up every morning, I've been cycling through my Droid Humble Bundle. Canabalt is a run-and-jump tapper that either has a very small community presence or is so easy that I can be a ranked player if I play for more than twenty minutes. Regardless, it's easy to digest and perfect for occupying my ailing mind as God-knows-what seeps out of my car's heat vents.
And now that I have a wired 360 controller, all's fair in the PC realm. Mark of the Ninja, I'm looking at you. (Other titles back in rotation due to my ergonomic advancements: Dustforce, Super Meat Boy, more to come.)
Eddie Inzauto
I've mostly been terrible at remaining stealthy in Dishonored, getting my clumsy self spotted by guards, tripping alarms, and having to go all Last Samurai on EVERYTHING in Dunwall. I'm having fun, though. I also dig the depth of lore found throughout the city – a Bethesda standby, regardless of who actually develops the game, apparently. The whole experience reminds me of Fallout 3, Oblivion, and BioShock, with graphics inspired by Timesplitters. That works for me.
I also played through Papo & Yo, which had exactly the effect I think was intended. I did not "like" the story, but I appreciated what it told me. It's definitely a game worth playing.
As for this weekend, I'm thinking I'll crack into Assassin's Creed III… finally. That makes me very happy.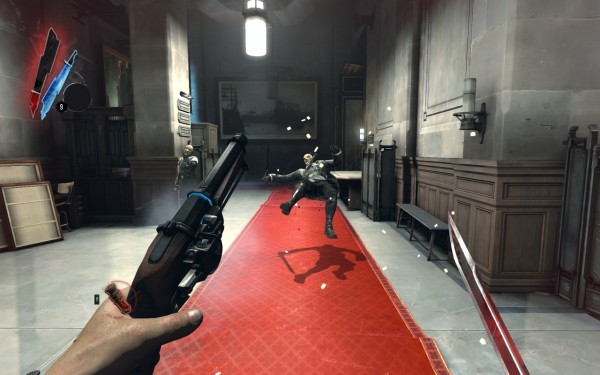 Anthony LaBella
I didn't have a whole lot of time for gaming this week, but I did still manage to spend some time with Skyrim's "Dragonborn" DLC. It sticks to the standard Elder Scrolls formula of presenting the player with numerous side-quests on top of the main quest, which is always great as far as I'm concerned. It also introduces interesting new enemies and locales by heading back to the island of Solstheim, first featured in the Morrowind expansion Bloodmoon. The highlight of the DLC so far has been the series of Black Book quests which provide the player with creepy environments to explore and brand new skills to acquire.
Aled Morgan
In my preparations for holiday gaming, I've had to stare hard into my own soul to find what I'm still missing. Over the year there have been a few games that I've started, enjoyed, but then put aside for whatever reason. Over the holiday I will get them finished.
I tell myself that, but I've always had eyes bigger than my stomach…
There's Dark Souls first and foremost. With all the recent news about its successor, I'm itching to get back to fighting against my own arrogance. Sure, I think that this middle-level area, with a handful of skeletons, is going to be a happy back-track, but then moments later it's all cursing, and "Oh man, my lost Humanity!' Constant vigilance.
Then there's Rayman Origins, which is like if Mr. Visual Loveliness and Mrs. Platforming plotted to make me into a collection addict.
I haven't played Far Cry 3 yet, and everyone is saying how good it is, but it's still pretty expensive right now.
Also Hitman Absolution, which seems like it might polarizing for a Hitman fan, but I'm curious to see how it turns out. My stealth itch was scratched weeks ago by the likes of Dishonored and Mark of the Ninja though, so that one is low priority right now.
Theeeen there's all the brilliant indies, and I still haven't gotten to the end of Spelunky, and I never did do the main quest in Skyrim…
Wish me luck, reader….
Mike Murphy
It's Wintersday in Guild Wars 2, the MMO's Christmas/Holiday event. I've spent a few days over the last week jumping in to check out the new content, and I've got to say that ArenaNet has done a splendid job. The new dungeon of Tixx's Infinirarium is fun to play and visually breathtaking. Meanwhile, new mini-games like snowball fights and the Guitar Hero-like Bell Choir are fun and addictive. Plus there's new items, an event-specific jumping puzzle, and Lion's Arch is decorated all pretty in a Christmas theme. The event goes on until January 3, so there's still plenty of time for players who have been slacking to get in on the fun.
Still working my way through the list of games nominated for Nodies, I've begun a playthrough of Sleeping Dogs. While driving on the PC version is awkward, the action, voice work, cinematics, and side-quests are a lot of fun. I'm not too far along yet, but I'm already pretty intrigued as to where Wei Shen's investigations and undercover work will take him.
Having taken advantage of yesterday's sale on XBLA, I intend to spend this weekend playing some Fez and Mark of the Ninja, two highly praised indie games that I can't wait to start. I'll also be aiming to get further in Sleeping Dogs and hopefully even Dishonored.