It's time for another edition of The Sandbox, the weekly feature in which the GamerNode team members reveal what we've been playing over the past few days and what we've got on our plates for the weekend. The main attraction this week was Senior Editor Jason Fanelli's wedding (congrats dude!), but there was still time for mindless button mashing, iOS gaming, and deadly zombies, among other things.
Dan Crabtree
I beat three iOS games this week: Dead Space iOS, Infinity Blade II (although you never really beat that thing), and Bastion iOS. I'm pretty swiped out.
I also jammed on some Dynasty Warriors 7 with a friend; man, are those games formulaic.
And Eddie, Mike, and I conquered the greatest game of all – cutting several rugs at Senior Editor Jason Fanelli's awesome wedding. OPAHN GANGNAM STYLE.
Congrats, Jason! I can't imagine a better half for your silly ass.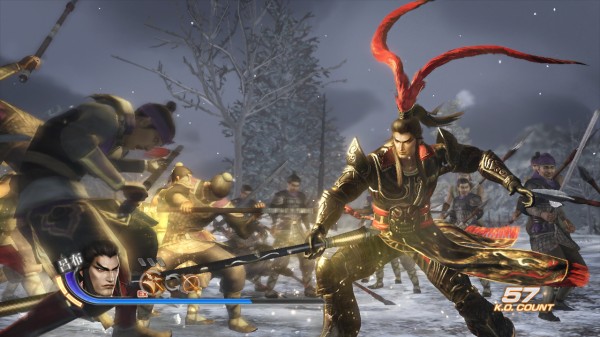 Mike Deas
I've been playing through the new Mario Bros game for the 3DS – it's perfectly adequate. I got five hours into Dream Drop Distance before leaving it for another day. The game was pretty cool, but KH just isn't snatching my interest like it used to. I still haven't started The Walking Dead Episode 3, but I'm about to try out the prologue for the iOS Final Fantasy game that just came out. Will hopefully defeat a few more Colossi this weekend and catch up on Breaking Bad.
Jason Fanelli
I played the greatest game of all: Wedding Day. Hell of a ceremony, hell of a reception, hell of a night. The Node REPRESENTED on that dance floor, FO SHO.
This week was all wild prep for the big day, but I did find time to install Final Fantasy IX on my Vita, and I've been playing that. Just got to Lindblum for the Festival of the Hunt.
This weekend, rest and relaxation at a couples resort in the Poconos with my beautiful bride. Should be awesome!
Eddie Inzauto
The Walking Dead is pretty incredible. I wrapped "Long Road Ahead" last weekend and CAN'T WAIT for the next episode. This one was the most emotionally affective of them all so far and I'm eager to see where Telltale takes it next – just PLEASE leave the ground under my feet this time!!!
Also, duh… I'm playing Dark Souls: Prepare to Die Edition… and yearning to figure out what the new content entails exactly. Otherwise, it's kind of a shitty port – the keyboard and mouse controls are funky and not fully mappable, the frame rate drops from time to time, and inputs, at least in my experience thus far, can have delayed on-screen effects. I mean, it's still Dark Souls, though.
This weekend, I'll be taking a break from games and enjoying Mr. Jason Fanelli's wedding, as well as the great outdoors before I go in for shoulder surgery on Monday. After that, though, it's all games throughout my recovery. Woo!
Aled Morgan
I like rhythm games.
Back when I was a kid my dad took me to one of his friends to teach me guitar, and for years afterwards I tinkered on the instrument. I say tinker because I was never a serious student of music. I'd download tablature of my favorite songs and sit there, quite happily, just imitating whatever I happened to be listening to on my MP3 player. I played bass guitar in a high school band, and even got to play on stage in a few small clubs. I lived the rock 'n' roll dream, to some very small extent, so why did I need rhythm games?
One day a box got delivered to my house, and in it was a set of plastic drums, guitar, and a microphone – a band in a box. It was Rock Band. The next few months saw my gradual, gem-dotted climb to expert difficulty on both drums and guitar. The drums were what really captured my imagination though. While guitar in rhythm games is as trying to angrily poke holes in a broom handle, getting to the level where I could pass Run For the Hills on Expert drums made me feel like I was learning the basics of the drum kit, and by the time I had managed to 5-star Dream Theater's monstrous 'Panic Attack' in Rock Band 2, I legitimately felt like I'd accomplished something.
Throughout Rock Band 2, Rock Band 3 and hundreds of DLC songs, I kept playing drums in the game, and never once felt like I was wasting my time. When I have the space (and nobody living below me) I hope to buy a real kit and finish learning what rhythm games have taught me.
But now on to what I've been playing this week.
Rock Band Blitz. It's a strange game, and totally different to vanilla Rock Band. It's all about the high scores, but the basics of rhythm games still apply to some extent. It's hard to put my finger on what exactly I've been enjoying about it, but on my days off this week I managed to put in twenty hours of play time, so it's doing something right. For anyone with a back catalog of Rock Band songs to pull from, I'd totally check it out.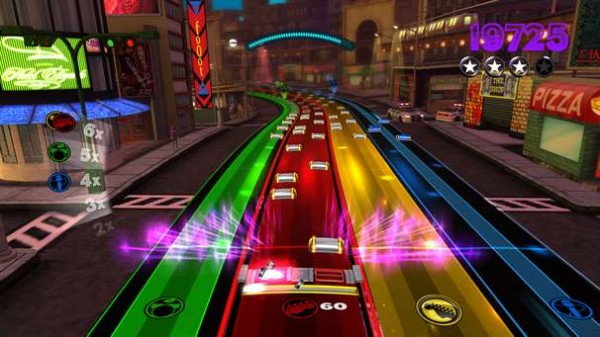 Mike Murphy
Arriving to the party a week late, I finally played The Walking Dead: Episode 3 – "Long Road Ahead." All I can say is…holy crap. This is by far the most depressing episode to date and rivals "Starved for Help" in shock value. Telltale is telling an incredible narrative where you feel the weight and burden of every decision you make. I'm dying for Episode 4.
I've also continued to chug along in Guild Wars 2, getting a much better feel for World versus World content. In short, it's epic. Having small encounters is fun, but the frantic action that comes when two or three servers are fighting for a wall or capture point by the tens feel like a true battle between armies. From charging the front lines to acting as a defender, throwing up wall and bubble barriers to protect allies, everything I did — so long as it was done wisely — felt important and crucial to victory.
I also learned of another fun element in the game: secret explorable puzzle maps. While completing the map of Lion's Arch with a pair of friends, I stumbled upon this cave in the shape of an open maw behind the hardest-to get-to vista in the city. Once inside, the cavern became a linear platforming puzzle that my friends and I needed to complete to make it out. We jumped rocks, dodged booby traps, and platformed in the dark to reach the end, which gave us middle-of-the-line loot and an achievement. There are apparently more locations just like this spread through the game world. It's a nice extra piece of content that adds a good change up from everything else in the game.
This weekend, after returning from Mr. Fanelli's killer wedding shindig, I'll be getting myself into even more Guild Wars 2. I'm about to unlock my final skill slot for my elite skills, and I'm really looking forward to seeing what those can do.