*Warning: This review contains spoilers*
Can one aspect of a game carry the entire experience? Can accepted design principles be eschewed in an effort to expand on that one aspect? These are the kinds of key questions to consider when playing at To the Moon with a critical eye. The answers may vary depending on each individual, but my personal experience with this game leads me to say "yes" without hesitation. Like Heavy Rain nearly two years ago, To the Moon places a strong emphasis on storytelling, albeit on a significantly smaller scale. And just like that game, To the Moon may spark discussions about what actually constitutes a video game. But no matter what label you put on this downloadable title, To the Moon presents an emotionally resonating narrative not often encountered in the videogame medium.
Working as an inverse to the film Eternal Sunshine of the Spotless Mind, To the Moon is a story about creating memories and preserving one's dreams and aspirations. Dr. Rosalene and Dr. Watts are tasked with entering the minds of individuals in an effort to grant their last dying wishes. Johnny, their latest patient, wishes to go to the moon. The reasoning for such an obscure and lofty goal escapes Johnny, so it's the job of both doctors to enter the mind of this elderly man in order to piece together a complex puzzle that spans an entire lifetime.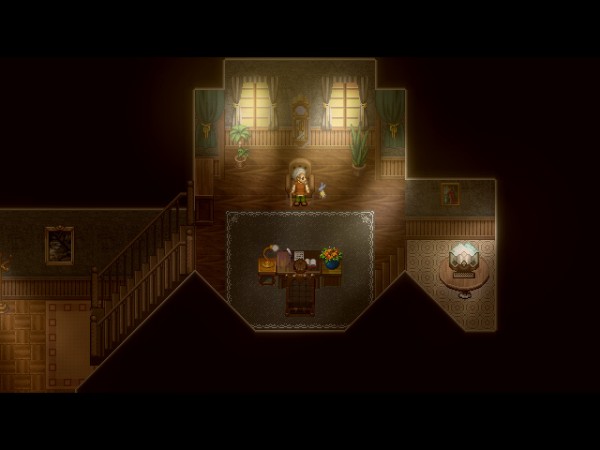 A plot revolving around time travel and accessing another person's memories may sound a bit far-fetched initially, but To the Moon's success rests on realism. That's a word most readily used when talking about military shooters or standout visuals, but To the Moon's realism comes from a narrative perspective. More specifically, the characters in this game display relatable human emotions. When Johnny first meets his wife, River, he's struck by her unique personality. In an effort to distinguish himself among the sea of people in the world, he pursues her. This selfish reason eventually consumes Johnny with guilt as he becomes more attached to River, and her quiet and strange transformation upon hearing the news is authentic.
That narrative credibility extends to various moments throughout the game. Perhaps the best example of this is the way Johnny deals with the impending death of his wife. River's medical bills create an immense financial burden, especially after the couple have just built a brand new home. River refuses care in order to keep the home, despite his vocal reservations. It essentially boils down to honoring River's wishes because he loves her, just as Johnny's friends point out prior to her passing. This theme of obligation is established multiple times, including the big reveal regarding Johnny's desire to go to the moon. That moment in particular is incredibly touching – I'll even admit I teared up a bit at that point. It's really a testament to the game that it's able to evoke those kind of emotions.
The praise-worthy story in To the Moon is what makes the game such an exceptional experience. From a mechanical perspective it could be compared to an adventure game, but there is no inventory to speak of and the few puzzles in the game are as simple as they come. Despite these valid criticisms there's just something about seeing such an affecting piece of storytelling depicted with sprites on a brightly lit screen that speaks to me.
Video games are often touted as a reliable escape from reality. That's why it's so refreshing to see a game like To the Moon that relies on the reality of its characters and how that plays into gamers' emotions. Furthering that approach are themes that tackle intricate issues such as love, loss, and commitment, all things that we encounter at some point in our lives. It falls short in the most interactive moments when collecting items and solving puzzles, but somehow that ends up being less of a detriment than it should be. Call it what you will, but To the Moon is something that deserves to be experienced.