Tom Clancy's Ghost Recon: Future Soldier just wants to be liked. Its looks to blend its strategic, slower heart (which is still beating strong) with the hastened disarray of current military shooters, never fully committing to one or the other. There's life in the game and its tactical evolution, but there it sits, unsure of itself.
Ghost Recon's gameplay is still appealing. The A-Teaminess of being left without assistance, just you and your ghosts, is engaging up until the end. Like the seniors in high school who would go around doing what they want, skipping class, and being the proverbial Fonzies, your squad is entrusted and left to their own devices.
Boy, those devices are an imposing jumble of circuits and bullets. Even on the normal setting, my scopes and drones quickly diffused a potentially threatening situation. In one instance, I was surrounded in a cemetery by snipers. My squad panicked, bucking like perturbed hens from tombstone cover to tombstone cover. Any second I'd be picked off, so I took aim, darting and aiming across the horizon. My super Terminator scope then automatically targeted the snipers perched in towers several clicks away.I stayed on target as the crosshairs closed in. They lit red, signaling a precise shot. I fired and repeated the process, untouched.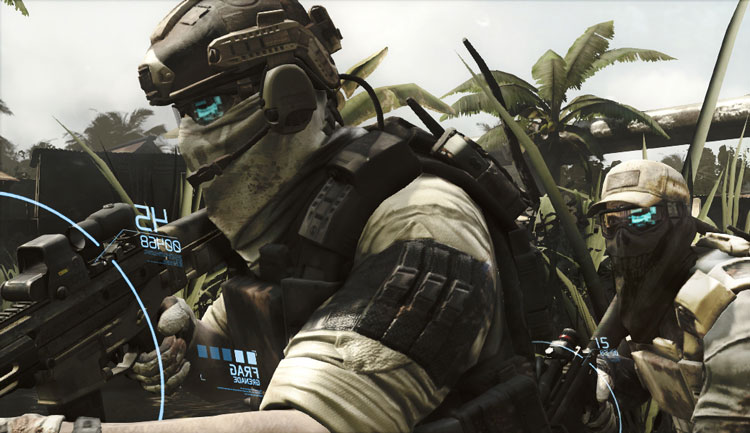 Ghost Recon's intelligence does not lie in its firefights (which are thrilling, though standard), but rather in the preparation. Before each mission I crafted my guns in the new Gunsmith feature, fitting them with different long- and short-range muzzles, targeting systems, and stocks. All of it contributed to how I'd approach my mission.
Faces, arms dealers, logistical mappings, and locations in the globe's darkest corners clutter the cutscenes between missions. During missions, columns of data and the name of my location towered in the sky. It's all very flashy and would be important if I knew what was happening. The story is jumbled, boiling down to "bad here, you go, get him" but without the concision; briefings were tough to pay attention to. It worked to a degree, though, since all I thought about during briefing was gunsmithing and planning. However, the disparity of on-field action and plot development is stark. Information is digestible if I know what I'm eating.
The palpability lies in the moments before enemies were even aware I surrounded them. Sneaking in cover, cloaked by the tech of my outfit, I commanded my squad to target up to three enemies. All three would collapse simultaneously as the ghosts fired in unison (sometimes from impossible locations, like, you know, behind a wall).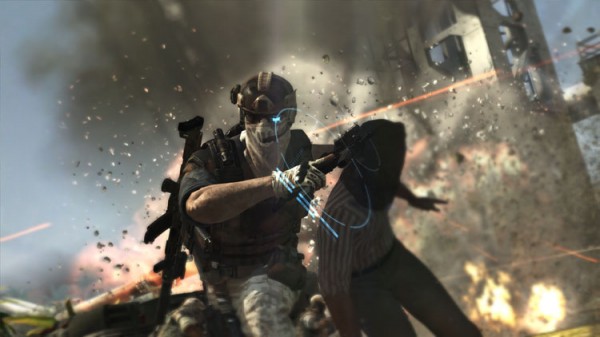 My favorite moments of the game, the most rewarding moments, followed in those few seconds of silence after the disposal. Those grains of time, waiting to see if other guards saw or heard my infiltration attempt, were usually absent of my breathe. If the silence continued, so did my breathing.
Ghost Recon has trouble knowing when to quit. There's one thoughtful solo mission that dropped me behind enemy lines via skydiving from space. Yeah, space. Without a squad, I couldn't target multiple enemies at once. I couldn't be revived if I was shot down. I couldn't use my usual techniques. I evolved and used what the game taught me: where to crouch, the right person to target, effective use of my drone.  Had the game ended with that mission, the pacing would still have been troublesome, but less so. Instead it continued for a few more hours in an attempt to make the last moments memorable and explosive. It didn't.
The trouble with a game that tries marrying the run-and-gun aspects of first-person shooters with tactical brevity is when those two elements come to a head. Giving me a solo mission that implores stealth and following it up with an explosive affair that engages all of its targets (many, many targets) is disjointing. The power came, and should remain, in the cloaked silence of squad arrangements and executions. Much like ghosts, we should never be seen.