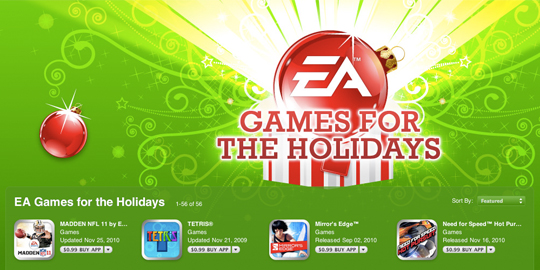 EA has marked down seemingly their entire iPhone and iPad library of games, and all down to a dollar.
No one ever complains about the price of iPhone, iPad and iPod Touch games being too expensive, but a sale is a sale, and when this many great games are marked down to $0.99, you have to run in and grab and handful, or in this case a couple gigabyte-fulls.
Highlights include Madden 11, Tetris, Mirror's Edge, Need for Speed Hot Pursuit, Sims 3, Battlefield: Bad Company, Scrabble, Tiger Woods PGA Tour, Wolfenstein RPG, Dragon's Lair, Snood, Mass Effect Galaxy, Trivial Pursuit and Monopoly. There are a lot more, and the full iPhone list can be seen by clicking here, while the iPad list can be seen here.
No word on when the sale will be ending, but it's safe to assume that it will be soon, so go grab some games.