If you've been playing video games for a while, you know that commercially licensed games often stand out as particularly awful titles. Whether they are based on movies, cartoons, or novels, they are released consistently every year despite their poor quality. Perhaps it's the curse of E.T. the Extra-Terrestrial from the good ol' Atari 2600 days. Fortunately every now and then a small glimmer of hope comes in the form of a great commercially licensed game.
10) Penny Arcade Adventures: On the Rain-Slick Precipice of Darkness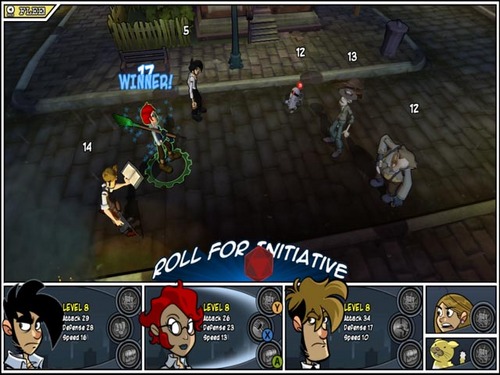 It's not often the intention of video games to bring us laugh-out-loud moments and genuinely funny characters. Humor is one of the toughest things to pull off in a video game, so it often falls by the wayside. But every now and then a game comes along, challenges that convention, and actually manages to be funny. Penny Arcade Adventures is a prime example, and that's why it was such a refreshing title. Based on the webcomic loved by many gamers, Penny Arcade Adventures delivered the same quality jokes and wacky situations that fans of the comic had become accustomed to. The result was a hilarious RPG that put its source material to good use.
9) Peter Jackson's King Kong: The Official Game of the Movie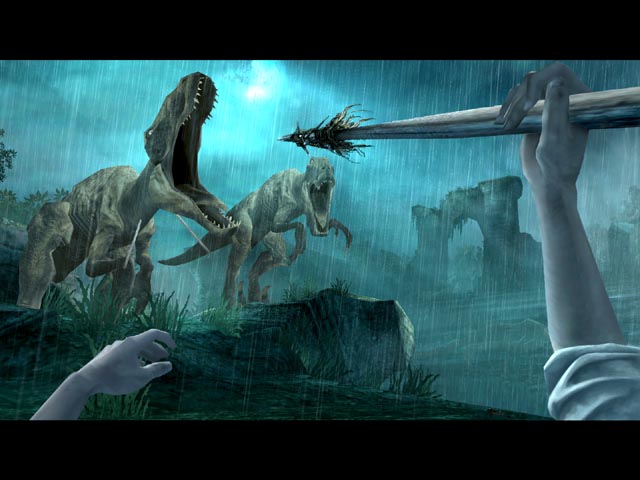 Ridiculously long title aside, Peter Jackson's King Kong: The Official Game of the Movie was a solid game from start to finish. What's most remarkable is it's a game based on a movie that isn't bad. That's not supposed to happen! The stars from the film voiced their roles wonderfully and the Kong sections, though brief, were quite a bit of fun. Best of all it nailed that atmosphere established in the film, and that's quite a feat in itself.
8) The Lord of the Rings: The Return of the King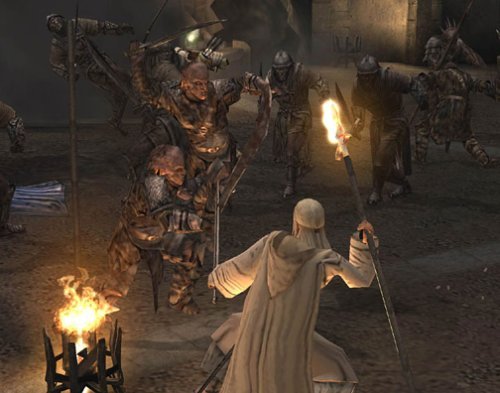 Yet another video game based on a movie that's really good. Perhaps developers should just stick to adapting Peter Jackson films. The Return of the King let you play as multiple characters such as Gandalf and Aragorn as you take on foes in some epic battles depicted in the film. The gameplay was fairly standard hack-and-slash fare, but the impressive set pieces and production values really set the game apart from other movie adaptations. It just goes to show that staying faithful to the source material can go a long way.
---
7) Ghostbusters: The Video Game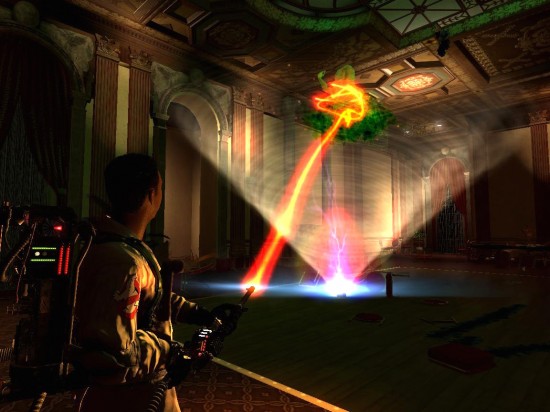 If you're a Ghostbusters fan, then Ghostbusters: The Video Game was sure to make you happy. Dan Aykroyd and Bill Murray — check. A clever story with help from those who wrote the films — check. Capturing ghosts — CHECK. What more could you want from a Ghostbusters video game? It might as well be referred to as the unofficial third movie. Even Dan Aykroyd said that in an interview. Are you willing to disagree with Dan Aykroyd?
6) Spider-Man 2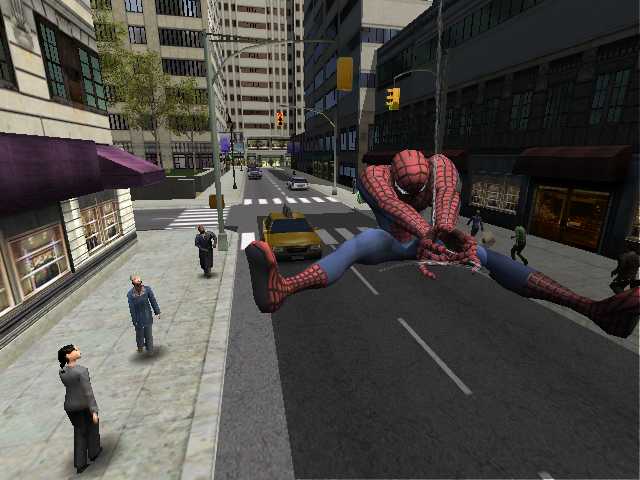 When Spider-Man 2 came out it was one of the best superhero movies around. Likewise Spider-Man 2, the game, ended up being one of the best superhero games up to that point. The best part about Spider-Man 2 was how it excelled at making you feel like a superhero. Whether you were swinging around the city, knocking out the bad guys, or taking on villains such as The Rhino and Shocker, it always felt like a genuine Spider-Man experience. Tobey Maguire and Kirsten Dunst lending their voice talents was just icing on the cake.
5) Star Wars Rogue Leader II: Rogue Squadron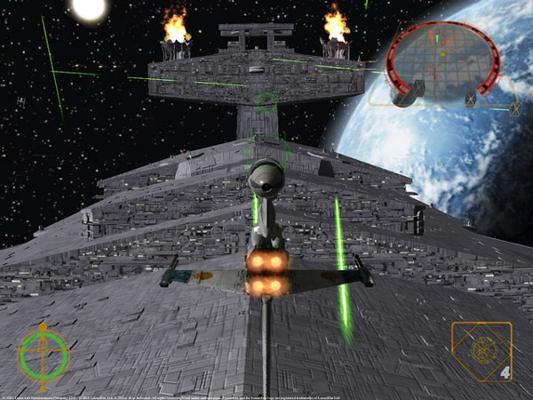 For a long while there was constant string of horrible Star Wars video games. The games improved over time, and Star Wars Rogue Leader II: Rogue Squadron is one of the best Star Wars games there is. This launch title for the GameCube focused on flight combat as opposed to jedi knights and lightsabers. Sometimes flight combat games can be a bit dull, but there's nothing quite like taking out a TIE fighter with an X-wing in the Star Wars galaxy. It was one of those cases where the setting propelled it to something more worthwhile, and it's thanks to the Star Wars franchise.
---
4) The Beatles: Rock Band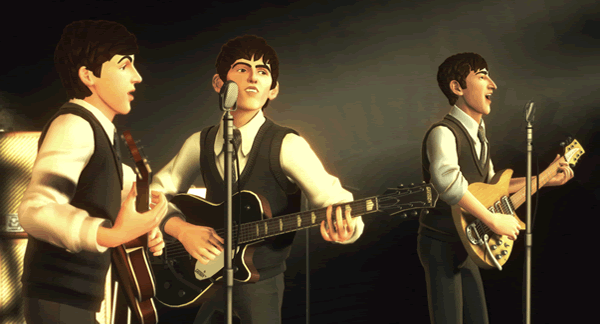 The Beatles are considered by many to be the greatest band in the history of music. If there's one developer that could do a Beatles game justice it's Harmonix, and they did just that. Spanning the band's entire career, The Beatles: Rock Band felt like more than just a series of songs for you to play. You got to relive classic moments like their performance at the Ed Sullivan Show or the infamous rooftop concert. The trippy visuals during the late 60s studio sessions also gave the game an artistic flare. The Beatles: Rock Band set out to be the perfect Beatles video game, and it succeeded.
3) American McGee's Alice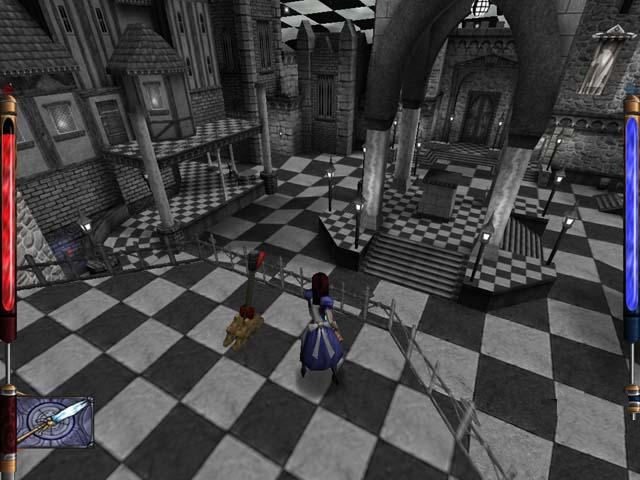 American McGee's Alice was a very intriguing project. Take an already bizarre fantasy novel (Alice's Adventures in Wonderland) and turn it into a dark and twisted story of a crazed girl and her perception of reality. It was an adventurous idea for American McGee that ended up paying off in spades. The tone and setting carried the game into a category of creativity not often seen in commercially licensed games. Unfortunately it didn't set in motion a chain of similarly innovative titles, but it's a great example of how to make something your own within the confines of your source material.
2) Batman: Arkham Asylum
It may have taken a long time for the ultimate Batman video game to come along, but it was worth the wait. Batman: Arkham Asylum expertly captured all sides of the caped crusader; you played the detective, struck fear in the hearts of your enemies, and beat up the bad guys in style. Batman's gadgets were well implemented and many of his toughest villains made an appearance. Lastly, the fantastic story and writing ensured that Arkham Asylum can actually stack up with the best comics, television programs, and movies in the Batman universe.
---
1) Star Wars: Knights of the Old Republic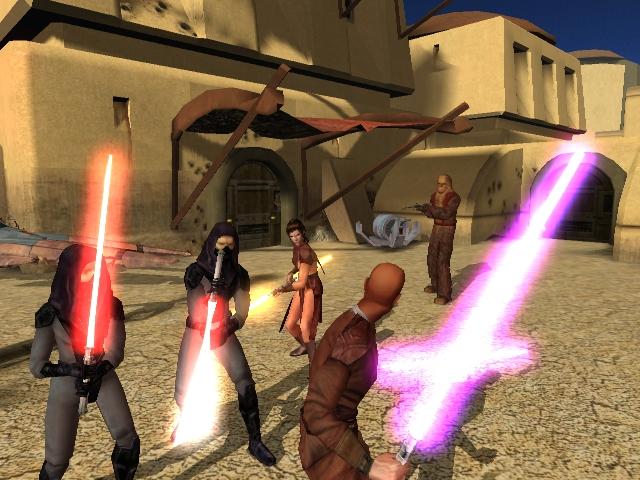 More so than any other game on this list, Star Wars: Knights of the Old Republic is a completely unique experience. That's not the case in the most obvious way though; there are lightsabers and Wookiees among other familiar Star Wars facets. But the story and characters are not based on any preexisting movie or novel. As evidenced by Mass Effect, BioWare is certainly capable of making a compelling sci-fi universe. With Knights of the Old Republic they merely used Star Wars as a way to enhance the experience for fans, and that's about all you can ask for when it comes to a commercially licensed game.