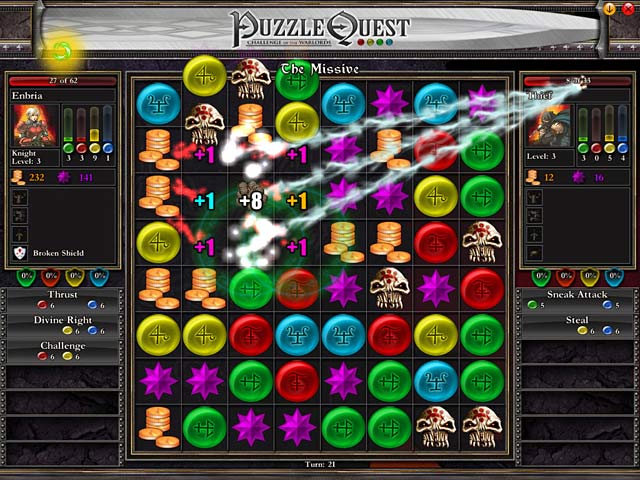 Puzzle Quest wasn't the first puzzle game driven largely by RPG elements, and it won't be the last. That's because Puzzle Quest 2 will be coming to consoles in June, but also because the premise for transforming what is generally a simple, compelling puzzler into a full-fledged role-playing success will undoubtedly be picked up by other developers. If you're unfamiliar with this particular formula, it manifests itself in Puzzle Quest: Challenge of the Warlords through the expansion of the familiar Bejeweled-style block shifting gameplay. In Puzzle Quest, these puzzle segments function as the means for the player to battle enemies, gain experience and gold, and complete quests to advance the fully fledged RPG story. Players can use gold and experience to upgrade abilities, equipment, and spells for use in the puzzle battles, and participate in a number of side quests aside from the main story quests.
Some games like Bookworm Deluxe and quiz-based games have already made the leap similar to Puzzle Quest, and mostly to their benefit. So which other puzzle titles should receive this kind of makeover, or perhaps, which would be best served by the upgrade? This Top 5 Takedown gets puzzletastic.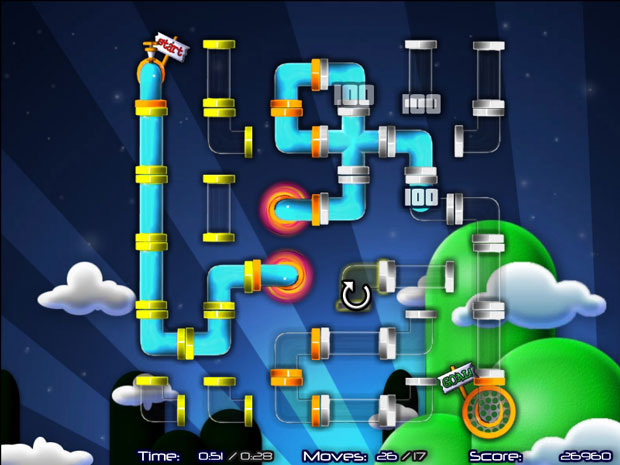 5. Aqualux – Fluid Tube Puzzle
This may be most familiar to gamers as "that pipes hacking mini-game in Bioshock," because that's where this kind of puzzler has seen the most success. But there's room for improvement, and what better way than to slap some shiny new RPG paint on it? Maybe there are multiple flows happening concurrently, and being moved by your opponent every few seconds as well, or perhaps a few upgrades and character attributes allow for an all-out rush on the flow of the fluid. There's really an endless amount of combos that could go with the standard fluid tube puzzle, but role-playing makes the most sense.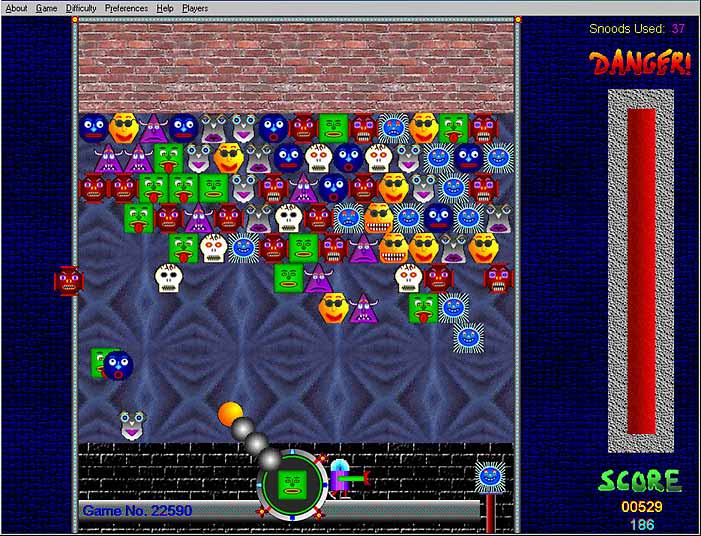 4. Snood – Ball Shooting Puzzle
This type of puzzler has also seen some partial revamps in console gaming, notably in Super Bubble Pop on the GameCube. Once again, they didn't go far enough. While some may argue that the distinct simplicity of a game like Snood, unfettered by the trappings of an RPG, are what give it great value, the same was said of Bejeweled, especially in relation to Puzzle Quest. And the RPG revamp, largely, was received with open arms in the puzzle gaming community. Isn't it time Snood got a little… less snoody?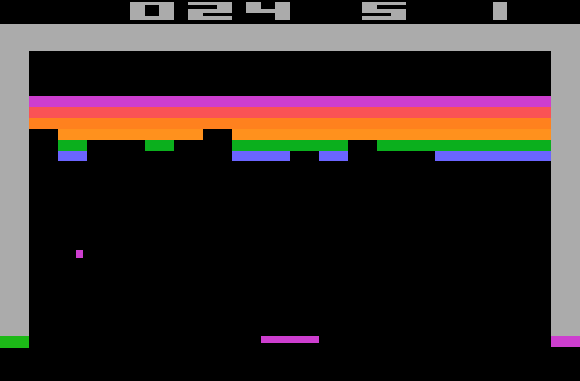 3. Breakout – Brick Breaking Puzzle
Breakout has been a puzzler standard since the days of the Atari, and comes on just about every phone these days in one form or another. It lends itself very easily, too, to the kind of level- and ability-building of RPGs, like new weapons, a bigger shield, or even a bigger ball. Players could even employ spells like slowing time and maybe some kind of Modern Warfare 2 -type nuke for crazy combos. The level could even fight back at the player, causing you to play defense and offense aggressively. How's that for your standard waiting room cell phone brick game?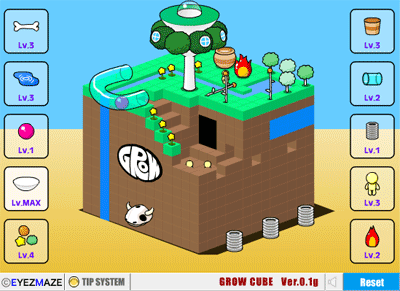 2. Grow Cube – Sequence Logic Puzzle
These kinds of games used to be few and far between, but have recently popped up all over the place, mostly in the form of "escape this place" titles. For those who are unfamiliar, the basic premise is that you either have one environment or a series of rooms that you interact with simply by choosing what to do in what order. For example, with a game like Grow Cube, players have to choose how to place humans, plants, houses, tubes, and more on a brown cube in order to accomplish… well, to beat the game. But these kinds of titles generally don't have much drive aside from unlocking the mystery of what will happen next. Imagine that same formula, used in multiple battles throughout the game, and the faster or more efficiently the puzzle was solved, the greater the outcome for the player. Applying that kind of puzzle framework to an RPG would certainly take a lot of work and imagination on the part of a developer, but the fruits of that labor would taste oh so sweet.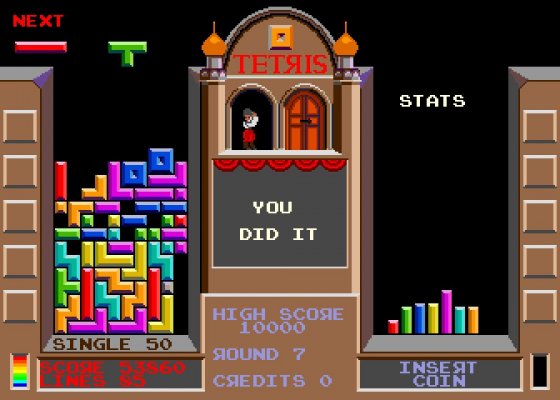 1. Tetris – Tetromino Placement Puzzle
Alexey Pajitnov, the original programmer of the Tetris code, probably had no idea that his idea of fitting sets of four cubes together would create the puzzle-gaming phenomenon that it did. How might RPG elements, then, add to this already very successful game? While this has already been done to some extent, the RPG side of the equation has yet to be fully realized. Completing lines could not only attack enemies, but gain experience and power up magic for players to unleash on their opponents or to use for healing. But to really do justice to the origins of Tetris, the story would have to center around Russian intrigue, and prominently feature the iconic Tetris music, themes A and B for those who remember the Gameboy version. It's about time we saw a Tetris revival, and the Puzzle Quest formula would be the perfect way to go. Listen, if 3D Dot Game Heroes can do it, why can't Tetris?