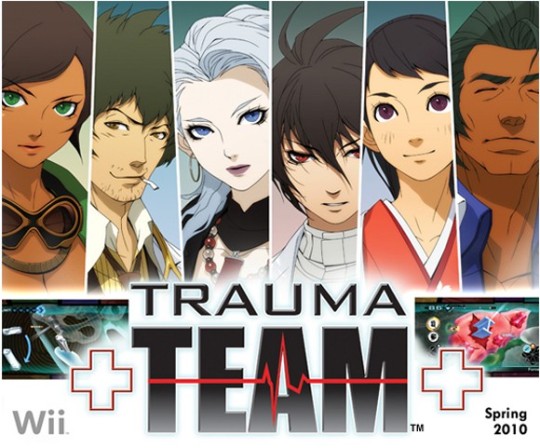 The magical wand-waving world of interactive medical drama is coming back in Trauma Team for the Wii, and Atlus has given us a few first looks. Via webinar, Atlus was able to show off three of what will be six very different medical/sort-of-medical disciplines and characters that comprise the game, this time putting a heavy emphasis on the storytelling aspect of the while staying true to the gameplay elements that drew in fans of Second Opinion and New Blood.
So, a quick overview of the characters (follows left to right on the picture above). There's Maria Torres of the First Response Squad, where there's sure to be some fast-paced ambulance action, Gabriel Cunningham, the strangely Spike Spiegel-esque Diagnostics Doctor, returning Naomi Kinishima of Forensics, though now with a decidedly darker attitude, CR-S01, the no-name phantom of Surgery, Tomoe Tachibana, the polite-but-thorough head of Endoscopy, and Hank Freebird, the silent type, of Orthopedics. All of these characters will have their own stories, intertwined at parts, but playable completely separately. Players will learn about the characters largely through the comic-strip-style animated scenes, but also through full voice acting of these and other peripheral characters (Phoenix Wright fans will be happy, as this game's storytelling heavily resembles that of the attorney at law).
As for the Atlas demo, we were given two brief previews of Endoscopy and Orthopedic Surgery, and a lengthy walkthrough of a point-and-click adventure in Forensics. Endoscopy is fairly reminiscent of other games in the series, where players will jump inside the body of a patient with an array of tools and attempt to assess and repair internal injuries like hemorrhages and blood clots. The Wii remote will be use to point at different problem areas to suck up, spray on, or reveal afflicted surfaces, and to travel throughout the inside of the patient's body to discover other ailments.
Orthopedic surgery was also similar to previous games in the series, but with a few important tweaks. First of all, the difficulty has been toned down considerably to make the game more widely accessible to different types of gamers. That isn't to say challenge isn't available, as there are still difficulty setting that can be dialed up or down, but the normal difficulty level has certainly been revamped. In this mode, like in the others viewed during the demos, the character will have hearts of health at the top of the screen that go down if a certain process or movement is not performed correctly, like hammering a pin into a bone to keep it in place. However, most of these actions were fairly forgiving, including the process of carving out a specific shape of synthetic bone to replace damaged or missing bones. From what little of the demo was offered, orthopedics looks to be an intense and meticulous part of gameplay.
Lastly, we had a chance to see a lengthy demo of Forensics, spanning a whole mission from beginning to end, and lasting about an hour. This segment of the game is a nod to CSI and other crime dramas as the majority of the action requires gathering and interpreting evidence, and fairly frequently answering multiple-choice questions regarding that evidence in order to further the story. What starts out as a very simple case moves quickly from the crime scene back to Naomi Kinishima's office, were the player uses a recorder, a computer, the victim's corpse, and the victim's personal effects to start unraveling the mystery. This does seem to be a tedious process at times, due to the large amount of seemingly disparate clues and the amount of dialog related to each one, but fans of the series and of very detailed storytelling, complete with medical and scientific details (just like the real thing!) will certainly enjoy the Forensics episodes. All of the clue gathering does ultimately pay off, as you end up using every single clue to find out whatever it is you are trying to decipher, and an animated cinematic at the end wraps up the episode nicely.
So there's a lot to like as far as our first look at Trauma Team goes, especially when it comes to the diversity of gameplay. And having only seen half of the character specialties, there should be twice as much variety, and hopefully twice the medical drama intensity that this series is fondly known for when it releases on the Wii this April.