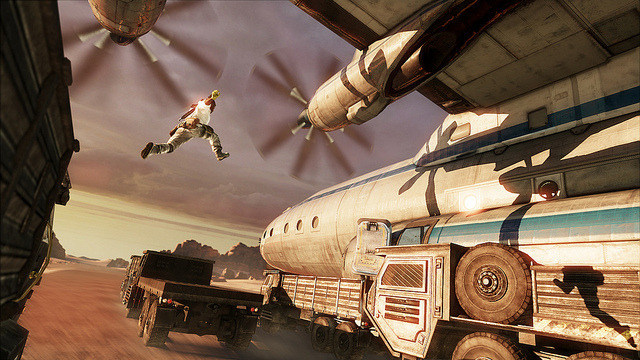 Developer Naughty Dog announced last month that an Uncharted 3 multiplayer beta would be coming soon, and now the company is revealing specific details regarding the upcoming preview.
In total nine different multiplayer modes will be available, including Team Deathmatch, 3-Team Deathmatch, Team Objective, Free For All, Plunder, High Stakes, and three additional co-op modes that will be revealed later this week.
Two maps will be featured in the beta: an airfield and a French chateau. Both are fairly large maps with multiple levels, and they include exciting events such as attacking planes and collapsing buildings.
As far as abilities go, eight boosters and four medal kickbacks will be included. They range from reduced respawn time to vanishing in a puff of smoke. Weapon mods will also make an appearance, allowing you to increase total ammo and the rate of fire among other things.
Power plays will be making their debut in the Uncharted 3 beta. When one team is losing by a significant amount, one-minute events will occur in an effort to aid that team. They include revealing the winning team's location and giving the losing team double damage. In total there will be four power plays featured in the beta.
Lastly, beta participants will be able to choose Nathan Drake, Sully, or a treasure hunter as their heroic character, while pirates will be the only choice on the villain side. But players will be able to customize those characters with different attire such as shirts and hats.
As previously announced, the beta will go live on July 4 and end on July 13. But those with a voucher from inFAMOUS 2 or PlayStation Plus subscribers will be able to access the beta on June 28.
[IGN]