Surprisingly, the iPhone is filled to the brim with word games. The latest, 99Games' Wordulous, is looking to carve a spot for itself in the genre.
From the first moment you load the game and see the game's mascot character (a young girl whose appearance basically screams "spelling bee champ"), it's apparent that 99Games put at least some thought into this one; they didn't just load up a dictionary, write a few lines of code, and put it out there to make a quick buck.
This is even more apparent when you go into the settings. The best news? Wordulous features three word lists to choose from. Players can play using SOWPODS (267,000 British and American words), TWL (179,000 American words), or ENABLE (173,000 North American words). Very few word games give players three word lists to choose from; and good luck finding one of those for under a dollar.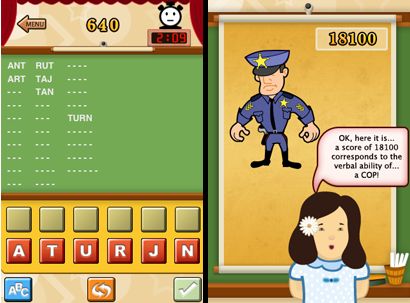 Okay, so the options are there, and the production is high. How's the game play? Pretty much how you would expect. Examination mode is the main gameplay mode, and it gives you a timer, a list of letters, and blank spaces giving you an idea of the possible words you can spell. Spelling words gives you points; spelling non-words penalizes you. If you get enough words, you can shuffle the tiles and get a new set of letters.
Pretty standard stuff.
After you're done, the game will give you a score, tell you what that equates to in terms of real life people ("you're a rock star," or "you're a maid" type of stuff), and let you compare your high score to the rest of the world. Wordulous also features some nice abilities, like challenging your friends to a game via email or Facebook, which just further increase the bragging possibilities.
So is Wordulous worth it? If you love word games and love to play them on the road, at work, while waiting in lines, etc., then it's hard not to recommend it. It's one of the more fleshed out word games available, and it's one of the cheapest. If you don't find yourself constantly craving to mentally rearrange letters to form words, though, there are plenty of free options online.