World of Warplanes was impressive when I got to see it in action back at PAX East in April. The quick, no-nonsense battles combined with the promises of an RPG tech tree and shared experience points with both World of Tanks and the yet-to-be-released World of Battleships left me very impressed with what Wargaming is bringing to the free-to-play world. With the game now in closed beta, I was able to get my hands on it and take its quite varied plane selection for a spin.
Before gaining experience and credits to unlock new planes on higher tiers through battle, players will have three different nationalities to choose from when it comes to their aircraft. Planes from the Soviet Union are very agile, excel at low altitudes, and carry rocket-propelled missiles, but they lack the toughness of their competitors thanks to Wargaming's respectful acknowledgement of their wooden frames. The Americans, on the other hand, are better when it comes to high altitudes and rely on large-caliber machine guns. Finally, Germany features a lineup of much more universal planes that use heavy-caliber cannons and explosive shells. These offer a nice variety and give players the opportunity to select a tech tree that best fits their play styles.
In order to advance to the next tier and level up to a more impressive aircraft, players will need to spend credits, which are earned based on performance within each battle. By using aircraft from a particular tier, players earn experience points to use on upgrades, called modules, from that tier. The three types are configuration, engine, and armament. The first will increase sturdiness, speed, and maneuverability, the second boosts agility, and the third increases firepower, but reduces maneuverability and speed. World of Warplanes will also sport four different kinds of aircraft: fighters, heavy fighters, ground attack planes, and carrier-based aircraft. I only had access to fighters in the beta, but all of this diversity in addition to the three separate nations will only add to the strategic possibilities.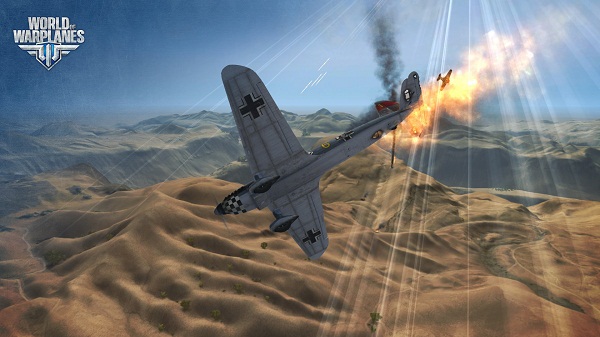 Once your plane is selected, it's time to take flight and duke it out in the skies. There will be a chance that the server you are on has a queue for a matchup after you press the "Battle" button on the main menu. If that happens, you'll be shown how many people are in the queue based on their tier. The server's chat window from the main menu will also still be featured on the left side of the screen to allow players to interact with one another while waiting and not get bored out of their minds.
When the battle finally launches, players will already be airborne and on the opposite side of the map as the other team. The mode featured in the beta was called Superiority. It's a quick, simple, and entertaining gametype with two methods of victory. A team can win by destroying enemies to rack up a kill lead and hold it until a percentage meter reaches 100, or by simply wiping out the entire enemy team. Pilots will get only one life, so once you're shot down it's into spectator mode you go. Though watching others fight after you fail is never fun, the fact that the games are over so quickly – about five minutes – makes it not so bad.
As for how the game controls, it does so rather smoothly. For someone who isn't an expert or even a novice at flight simulators and their complicated handling, the simplified method of World of Warplanes appealed to me. Moving the mouse out of the center of the screen will allow for easy climbs, dives, and banks while WASD controls the yaw, acceleration, and deceleration. Targeting an enemy and banking at the same time can be a bit tricky, but it looks like with enough practice a veteran player will be able to handle it with no problems.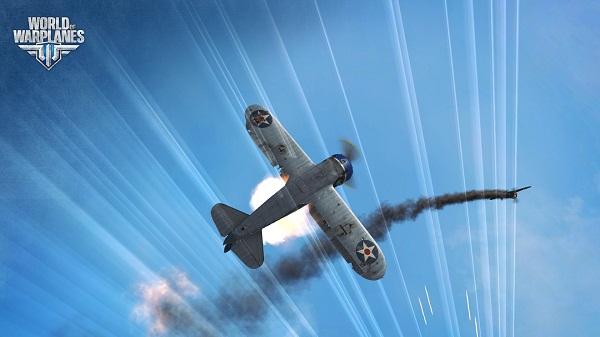 Though the HUD features numerous objects on screen during a dogfight, World of Warplanes keeps a large majority of the player's view reserved for the action. Important and crucial information such as teammate and enemy score, alive or dead status, personal plane damage, a map, camera displaying your target, time remaining, FPS, ping, and more all fit nicely within the sides and corners without taking up much space at all. Everything I need to know is right in front of me without hampering my ability to take down the opponent.
When one team has finally triumphed over the other, forcing its opponent into smoldering wreckage on the ground or in the sea, the game's post-match screen will pop up to give you the final stats. It's not incredibly in depth and won't have statistics hounds drooling, but does provide the basics. Players will get the standard status and score for everyone involved, shots fired, shots hit, individual stats on a separate tab, and XP and credits earned.
Without even going into the features of the game's menu system and shop, World of Warplanes already looks to have a ton of content and variety for its fan base to enjoy. The wide array of planes to choose from in combination with some fast-paced, high-action combat creates what is emerging as an impressive product. It will be interesting to see how the rest of this title will shape up as more aircraft types and the ability to use upgrade modules are included in future builds leading to eventual release.