The Steam-exclusive Worms Reloaded has been flying under the radar leading up to its release, with not much in the way of new features or content in this entry in the 15-year-old franchise. Unlike other Worms games, Reloaded isn't a completely original sequel or spin-off, but is what developer Team17 is referring to as "an extended edition of the console versions of late."  Nevertheless, the game plays on the series' strengths and the result is another fun, albeit conventional, strategy game.
If you've never played a Worms game before, here's the basic formula: you control a small team of worms whose objective is to take out the enemy. Your worms are controlled individually and you have a short amount of time to move around the map, plan your attack, and execute. Then it's your opposition's turn, and this goes on until one team is entirely wiped out. The setup is standard turn-based strategy fare, but the wide variety of weapons spice things up. Bazookas, homing missiles, and exploding sheep are just a few of the outrageous weapons in your arsenal, and you're also provided with useful items to traverse the battlefield such as jetpacks and parachutes. This results in some very fun matches that keep you on your toes and require you to plan ahead.
The game is not without its faults, though. Unfortunately the enemy AI can be quite sporadic. Every now and then they accidentally take out their own team, while at other times they'll make unfathomable grenade tosses that bounce off various surfaces or even their own teammates and somehow wind up at your feet. This can be especially frustrating in the more challenging levels when you're provided with only a couple of worms as you face off against an entire team of enemies. The default controls are another problem that can be troubling in the heat of battle. Most of the aiming is controlled with the up and down arrow keys rather than the mouse. This take some getting used to, and even after playing the game for hours it never felt natural. Using the enter key to jump seems equally puzzling.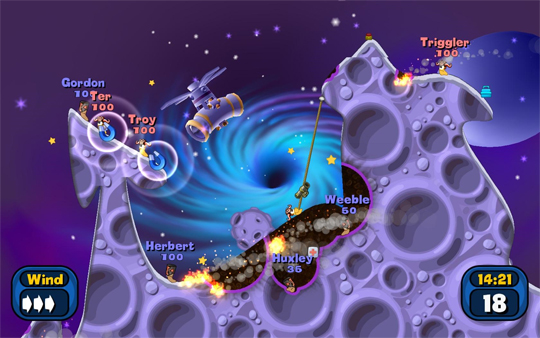 These problems are a little more forgivable when you see the wealth of customization options available. You can name each of your individual worms, outfit them with various hats, purchase new items with credits earned in the single-player portion of the game, and the list goes on and on. This also extends to custom games where you can control various facets of your match, such as game type or even how many mines are on the field.
Speaking of game types, there are plenty. The single-player campaign consists of 35 missions, most of them deathmatch battles, with a small puzzle/platforming level thrown in every so often. If that's not challenging enough there is the Warzone campaign with 30 harder missions, and a Body Count mode where one worm is pitted against respawning enemies in a high score challenge. Multiplayer also boasts many game modes for both ranked and unranked matches. They include standard deathmatch, a long-range-focused mode called Fort, Crazy Crates which finds you collecting… crates, Rope Racing where you use ropes to swing across the map, and Bazookas and Grenades where the aforementioned weapons are the only ones allowed. All are fun and the game lends itself well to online multiplayer.
One of the more noteworthy aspects of Worms Reloaded is its presentation. The game exudes all kinds of charm, which isn't surprising given the nature of the game. How could adorable little worms wreaking havoc and destruction not be amusing? The colorful 2-D visuals look fantastic and the audio is also well done. Sound effects are appropriate and the music is fitting, but it's the little remarks from the worms that stand out on the audio front. Hearing a worm yell out "Hadouken!" each time he does a fire punch never gets old.
The fact that a Worms game is still fun in this day and age is a testament to the quality behind the franchise's core play mechanics. Sometimes using the "if it ain't broke don't fix it" mentality can pay off, and that is the case with Worms Reloaded. The $20 price may be a bit too much for those who have played past games in the series extensively, but taken on its own, the game is enjoyable and newcomers to the series should definitely consider giving it a try.