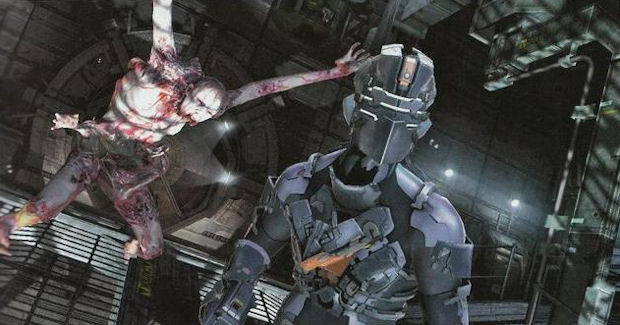 With the recent Visceral Games panel at PAX East, it looks like details are about to start pouring out for Dead Space 2. So far, we know there will be a multiplayer, the game will have a heavy focus on action while retaining horror elements, and Isaac will talk this time around. But aside from avery short gameplay clip from the PAX East panel, not much more has been seen or heard of from the Dead Space universe. GN managed to get in a few questions to Steve Papoustis, Executive Producer for Dead Space 2, and begin pulling back the curtain of mystery on this game, starting with some gameplay. Here's what Steve had to say:
GN: One of the things that immediately appealed to fans of the original Dead Space was the variety in gameplay, among other things, where they could shoot down asteroids or play zero g basketball. Can we expect this variety to return and how?
Steve Papoutsis: Our current plan is to have a variety of different things that Isaac will encounter along his path in Dead Space 2. I can't go into a ton of detail but there will be activities that deviate from the normal Dismemberment Gameplay. The goal is for these moments to be big punctuation marks across the game.

GN: A number of games feature gameplay mechanics analogous to the Kinesis Module (Half Life 2's Gravity Gun, Bioshock's Telekineses, etc.). How similar will the Kinesis in Dead Space 2 be to the first game, and how will it stand out?
Steve Papoutsis: Kinesis will still play a major role in Dead Space 2. It is our goal to make it more fun for players to use, a few tweaks we have already done that we think have improved it is the general speed at which it grabs and item, and the new ability to use Slasher blades as an impalement devices. In the original game you could shoot the Slasher blades at the Necromorphs but they would not impale the enemies, this time they will.
GN: You all have recently had a dismemberment contest through Facebook for gamers to design their own necromorph kills, some of which have been really gruesome. Outside of the story, do you have any gruesome deaths planned for Isaac as well?
Steve Papoutsis: Absolutely! Our Animation Lead Tony, is one twisted dude, so he has all sorts of killer deaths planned for Isaac.
Unfortunately, Papoustis was unable to comment on the multiplayer or Zero G gameplay, but expect much more on this exciting, horrifying sequel in the coming months. Dead Space 2 is set for release on Xbox 360 and PS3 in Q1 2011.