I think this column will be the first of a two-part series (can I call it a "series" if there are only two parts?), but I won't be certain until I reach the midpoint, so read on…
Anyway, Halo 3 is almost upon us ("us" meaning those not named Brendon), and the anticipation for the title is at fever pitch. This game's fan following is built not only on the merits and successes of past Halo games, but also upon marketing and the highly influential, ever-present "hype engine."
The internet is actually an instrumental tool used to keep this machine well-oiled. In the past 10 days alone, GamerNode has run about seven or eight stories about Master Chief's new adventure, and nearly every one had something to do with the Halo 3 launch, sales, or obsession. Let's take a look:
For one, Wedbush Morgan analyst and gaming prophet Michael Pachter has predicted that Halo 3 will sell over 3 million copies in it's first 12 days on the market. In addition, analyst Colin Sebastian has claimed that he believes the game will gross more $$$ in a single 24-hour period after launch than the record-holding Spider Man 3. How much? Over $200,000,000.
The game has ALREADY made some money. Due to early leakage and a broken street date, a PAL copy of the regular retail version (not the Legendary Edition with helmet and bonus discs) showed up on ebay a few days back. It sold for the equivalent of a whopping $206 plus $10 shipping. The incredible thing about this is that not only was the final sale price so insanely high, but the auction ended just five days before the game's official release. The winner would only be able to play (alone, mind you) for four days before he or she could've gotten the game for about $150 less in the store. O_o
Or maybe this person couldn't have gotten the game in a store, because it seems it may be sold out before it even releases! The Legendary (read: f*cking expensive) version is, anyway. For more than twice the price of the normal game, "collectors" get a small replica of Master Chief's helmet, a couple of bonus DVDs, a pretty box, and the game. It's $130 for this bundle… and it's already sold out! Wtf?
Not only that, but more retail outlets than ever before are holding special "Halo parties", beginning as early as midday Monday and climaxing when the clock strikes midnight. The games will be dished out and everyone will sprint, drive, ride, fly home to play them. At the Best Buy on 5th Avenue in NY, celebrities and Bungie employees will even be making appearances to play the game publicly on Monday afternoon, along with a few lucky gamers.
I was in the GameStop in Myrtle Beach last night and overheard some kids who were gawking at a particular piece of store signage. One said something to the effect of, "line starts at 9pm, I'm gonna be waiting for three hours to get my copy." The whole lot of them went into what was nearly a round of seizures over the aforementioned Master Chief helmet when the smug store associate revealed it to be sitting in the cabinet on the wall behind the desk (it was pretty shiny). To quote one of the pre-pubescent, borderline retarded children, "Halo helmet, Halo helmet, Halo helmet, Halo helmet…"
It seems the power of this franchise has reached a plateau that is almost beyond comprehension. While it turns children into zombies here in the U.S., the Westminster Council in London believes that Halo 3 will be a major catalyst for riots in the streets, and has cancelled all midnight launch events along London's Oxford Street, the largest shopping strip in Europe.
Finally, in what is probably the biggest example of the power this game holds over the gaming masses, a professionally-made, full-body Master Chief costume has sold on Ebay for over Twenty-One THOUSAND U.S. Dollars. No additional commentary necessary. Look.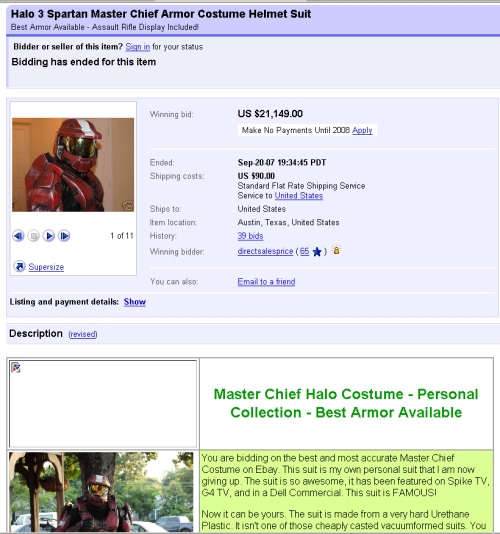 So there you have it — the lead-in to the release of what will undoubtedly be a very good game (we can just ask Brendon for confirmation of this, since as of this posting he has already beaten the game on normal mode. It took 7 hours, if you're wondering). Wouldn't it be funny if it sucked? In any case, the question we must ask is this:
Objectively, is Halo 3 really amazing enough to deserve this sort of fervor and success, or is the unprecedented level of hype some sort of strange, nearly unexplainable phenomenon? What other very good, great, or even outstanding games could have done just as well with the right sort of marketing? What games are actually better than Halo 3… yet haven't enjoyed even a fraction of its success?
Next time, we'll examine this question… and its answer.